The art directors at Collective Next have supported many TED, TEDx, and TED-style events. Over the past five years, the one we've spent the most time with is TEDxBoston; half of its curators, after all, are Collective Next employees. We spoke to two of our art directors, Melissa Segall and Evan Wondolowski, about the particular challenges and rewards of preparing speakers and performers for TED Talks … and what differentiates corporate presentations from TED Talks. (You can see two of this year's TEDxBoston speakers who worked with Melissa here and here; you can see a pair who worked with Evan here and here.)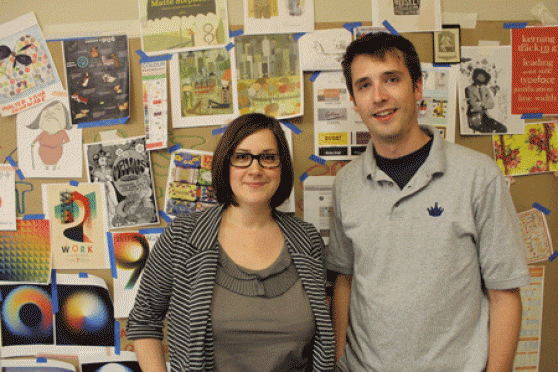 How are TED talks different?
Melissa: A TED Talk is not a corporate presentation. The essential difference between a presentation versus a TED Talk is that the TED Talk is a story. We can't start our work without that story. It will be blatantly obvious if the performance and the story don't sync.
Evan: One of the most exciting things for me about a TED Talk is that the content is super-rich. You can really get interested and get into it on a different level. As art directors and coaches, I think we get more freedom. You can definitely feel that. If someone's presenting something very specific for their business, it can be a great talk, but it's clearly for the business.
Melissa: There's a lot at stake at these events, so you have to build rapport and a level of trust with the speaker. You become a part of their team.
Evan: The TED speakers have tremendous ideas, but they don't necessarily start off as tremendous communicators. They have less of an idea of what they want than someone for a business who's done presentations before, who's maybe given their talk before in different ways. TED speakers are looking for a broader scope of input of what we can do with the talk.
Melissa: And there are a lot of people giving speakers input, not just us. There are a lot of cooks in that kitchen. There's the speaker's agenda, the curators' agenda, and a lot of people at the speaker's organization or company who want to weigh in.
How was preparing a TED Talk different from what you expected?
Evan: What was different than what I expected? I didn't expect to make friends.
Melissa: [laughs] You did.
Jimmy: That was cool.
Melissa: Yeah. I'm not a huggy person, but because of the length of the ramp‑up to a TED, you really do feel like you click.
Evan: You're connected on a different level.
Melissa: Yeah. It's a different level. It's definitely professional, but a little bit more on a personal level.
What happens when there are a lot of cooks preparing a talk: the speaker, her colleagues, the curator, the coach, etc.?
Melissa: There's always trouble when the client wants to hold the crayon. Conversations in which the speaker says, "I don't like that color green," don't offer valuable feedback. The feedback that we always try and aspire to is either, "This is helping make my point," or "distracting from my point," or "missing the point."
Evan: Those are helping the story. Otherwise, it's just nitpicking.
What was the most satisfying part for you?
Evan: I liked seeing it. It was cool because I clicked through the slides for one of the speakers so she didn't have to think about it while she was onstage. It was really cool actually being there for the event. That's something we almost always miss. The coaching happens, we do the presentation, and then someone tells us how it went.
Melissa: I've never been so involved in so many TED Talks.
It's an intense process.
Melissa: TED is definitely like the boyfriend that's done you wrong, but you keep coming back for more. It's hard work, but you learn so much, even about something you would never, ever read about. I don't have time to read Scientific American, but I can build four illustrations for someone who's talking about something crazy.
Evan: I'm more passionate about it because it's so honest. Most of the people who give TED Talks aren't doing what they're doing because it's their job. That's part of what makes their talks so interesting. It's not people on a management team presenting something because they have to. It's more like, "I'm incredibly passionate about this thing," and you can help them tell the story better. It's real.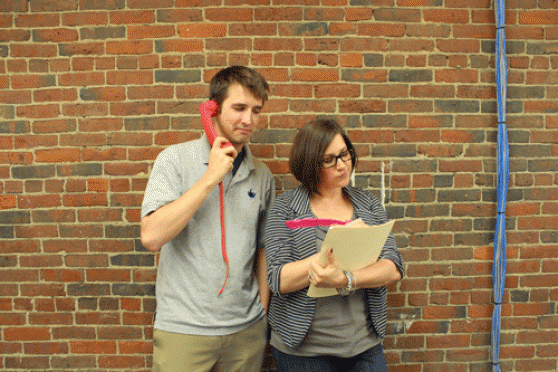 (photos by Brett Saiia)
Back