This is one of a series of posts we're running this summer about the Collective Next Cards.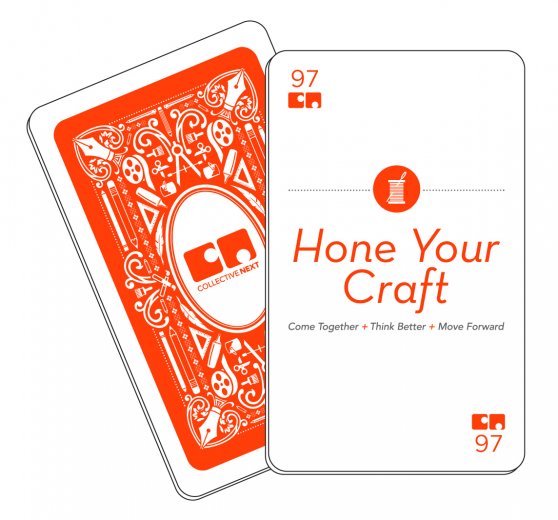 There are a lot of different crafts, or skills, that are part of my job as an Art Director at Collective Next, whether it is about people, budget, time, or process. But, to me, the one craft that can be simultaneously most exciting and challenging, is design.
Being an Art Director at Collective Next means I have the opportunity to lead more projects and work with great clients — as well as talented colleagues and contractors. But it also means that I do less hands-on design, which is OK because I love what I do.
When I do have the opportunity to own a design project, I sometimes reference a folder on my desktop, where I save clippings of interesting graphics, fonts, and color palates that I come across in my online travels.
More often than not, this folder is empty. I don't take enough time to wander around Pinterest, read design blogs, open a design magazine. I need to remind myself often: Hone Your Craft.
To hone my craft, I must also own it. It's my responsibility to stay on top of trends, and keep my ideas fresh. The folder on my desktop will not magically fill itself. So the second thing I need to remember is: Own Your Craft.
In my work, I believe that ideas and inspiration are meant to be shared. Not stolen or copied, but shared, so they can be built upon, refined, made different and new. This exchange of ideas, this collaboration, has always been an important premise to both learning and teaching at my job, and it's one that I try to remember to practice: Loan Your Craft.
Writing this blog post has taken more time than I care to admit, but has been a great exercise — and a reminder that it's time to go fill that folder.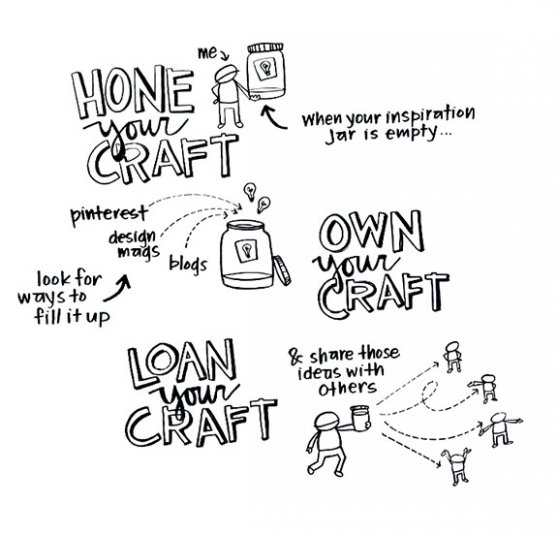 Back