Earlier this week, some of us attended Future Forward 2013, the latest installment of the intimate technology and business conference that Silverweave has run since 2001. Our Kate Dwyer scribed the briefings; for those of you who weren't there, we'd like to share her work. (Click on an image to see it larger.)
The first of the three sessions was an overt look at the future. Colin Angle, CEO of iRobot, told us what to expect from robots going forward; Seth Brooks of Fidelity Labs gave us a peek into the company's early work with Google Glass, and Jia Huang of Technical Machine demo'd the upcoming development tool Tessel.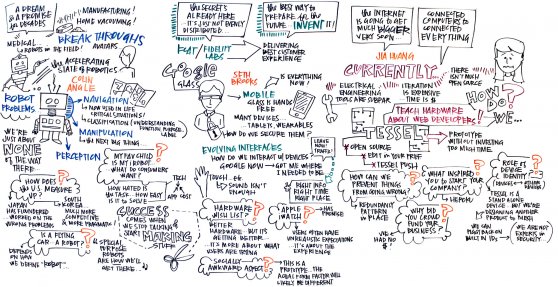 In the second session, Rob Go of NextView Ventures discussed how the venture capital business is changing, Brian Suthoff of Localytics considered the evolution of the mobile app, and Max Metral, chief engineer of PayPal Retail, detailed the latest in mobile payments.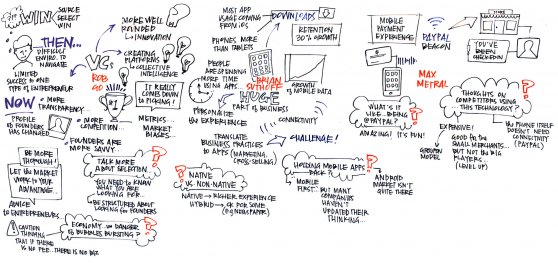 During the third session, Vlad Sejnoha of Nuance pondered the future of mobile interfaces, Shereen Shermak of Launch Angels made the case for equity crowdfunding, and Dylan Reid of Matter.io evaluated how 3D printing will go mainstream.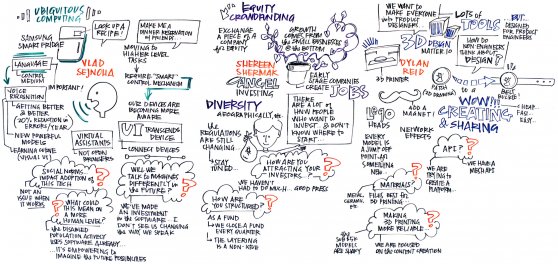 The featured speakers weren't the only ones to take the stage. There was also a lightning round of audience members offering what they felt were the most important technology and business trends that they're tracking.

Back