Our seasoned graphic facilitators create engaging and memorable virtual experiences by producing real-time content-rich visuals. We synthesize and illustrate key concepts from discussions and presentations and create a visual framework that organizes a group's ideas and highlights emerging themes.
With our tailored approach, we are adept at working virtually in small groups and breakouts, as well as large group meetings and online conferences. We can work alongside a facilitator or independently. We may participate as solo scribes or as part of a larger team—it's up to you!
Our graphic facilitators are highly skilled practitioners with unparalleled creativity, acumen, and professionalism. We are available across time zones to support your meeting or event virtually, wherever it is.
Including graphic facilitation in your virtual meeting:
Increases participation and engagement
Delights participants and unlocks their creativity
Improves retention of key concepts
Creates connections, fosters insights, and aligns thinking
Facilitates collaboration and better decision-making
Sustains momentum and engagement post event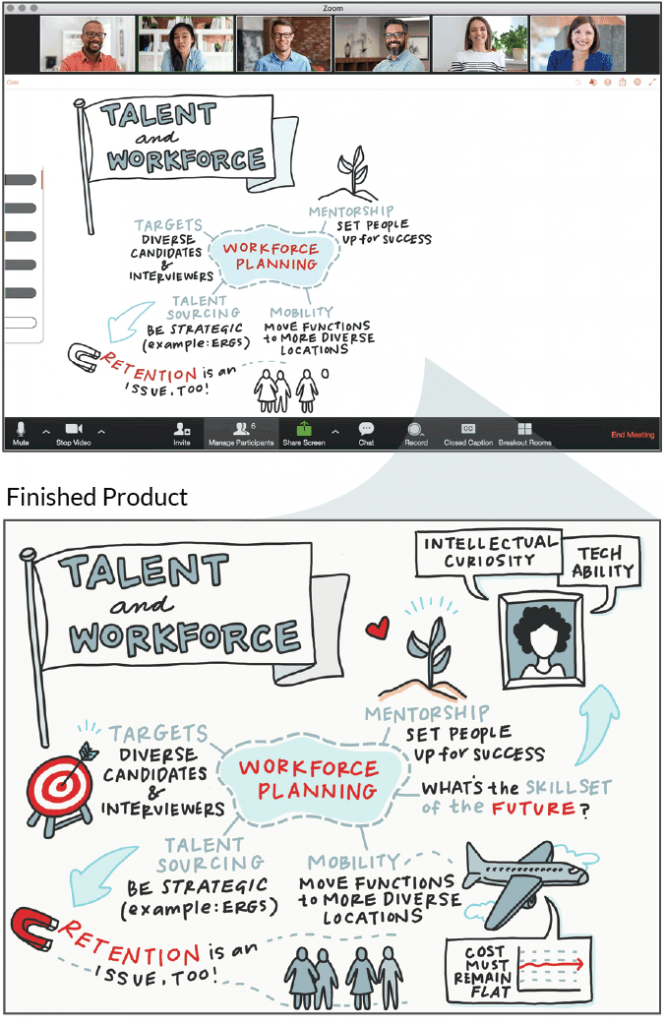 Virtual Graphic Facilitation: How does it work?
Our graphic facilitators typically work with your team or conference group either in-person or virtually—but we're purely virtual for the time being!
We'll use a tablet and join your meeting virtually to support plenary presentations and/or breakout conversations
Our graphic facilitator will gladly share their work in real-time if you'd like, and/or you can send their finished product to participants after the session as a follow on
Attendees are delighted by this level of visual support
You'll receive a high resolution deliverable that is easily scaled for printing and/or use in online channels
Examples
Read more about virtual graphic facilitation and see it in action on our blog
See our work for SWIFT on our blog
Our portfolio page highlights a few of our sample deliverables
Scribe Story Videos
Create a visual story that unfolds right before your eyes. There's no limit to what we can create together: your company or department's origin story, explainer videos, and so much more
Whether it's a metaphor or a more literal interpretation, we'll shape the story in a way that engages your audience
Very effective in dynamic presentations or as social media assets
And if you need help with your script, we can do that, too!
Examples
Check out our Scribe Story video reel
Graphic Facilitation Training Programs
Is your team is ready to work more creatively and effectively?
Need a new tool for capturing and solidifying ideas while working remotely?
Engage your team in a training session with our graphic facilitation gurus and come away with increased confidence and new techniques for better collaboration
Examples
Read our post The Power of Graphic Facilitation to see how we brought our Graphic Facilitation Boot Camp to a team of UX designers
Check out our Graphic Facilitation Boot Camp video to see our program in action