I was recently in a meeting in our Boston office and noticed something that might seem peculiar in other workplaces. At one point, all five people in the meeting were standing up close to one of our IdeaPaint walls, marker in hand, sketching while they spoke. It was a totally spontaneous scribe-fest. No one had said, "Let's go try to draw our ideas!" No one had handed anyone else a marker and said, "Please capture what's being said." After working like this for so long with clients and with each other, scribing-while-talking is simply second nature.
Scribing, or graphic recording (not to be confused with graphic facilitation – but that's another post, another time), is an integral part of the work we do and it's the topic for Episode 3 of our podcast, NibSqueak, released today. In this episode, Describing Scribing, Bree and I talk about what scribing is, who does it, and how it can be valuable.
This episode features two fantastic guests. First, our friend and colleague Jack Burgess shares insights from the field of professional graphic recording that everyone can use to work better day-to-day. In addition to being a gifted and talented scribe and facilitator, Jack is an incredible fine artist and designer. Check out his website: jackburgessstudio.com and follow him on Instagram: worldsgreatestco and jackburgessstudio.
Later in the episode, we hear from Cole Nussbaumer Knaflic, of Storytelling with Data fame (blog, workshops, book). I scribed for Cole last summer at a data visualization meet-up in Dallas, and she joins us to chat about what it's like to have someone scribe your presentation and how that can impact the participants' experience at an event. Cole is leading the field of data visualization. Her book, Storytelling with Data: A Data Visualization Guide for Business Professionals, is a must-read for anyone who creates or consumes information (meaning: everyone).
If you're curious to see examples of scribing, here are a few places to start:
Photo below is me scribing for Cole's presentation. Thanks again, Cole and Jack!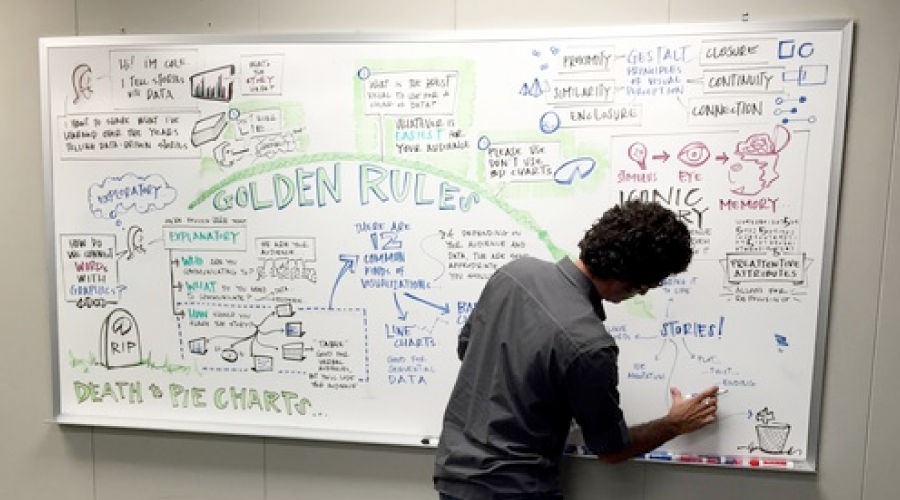 NibSqueak is our podcast about using visuals to communicate, collaborate, and work better. For a complete episode list, visit nibsqueak.com.
Back