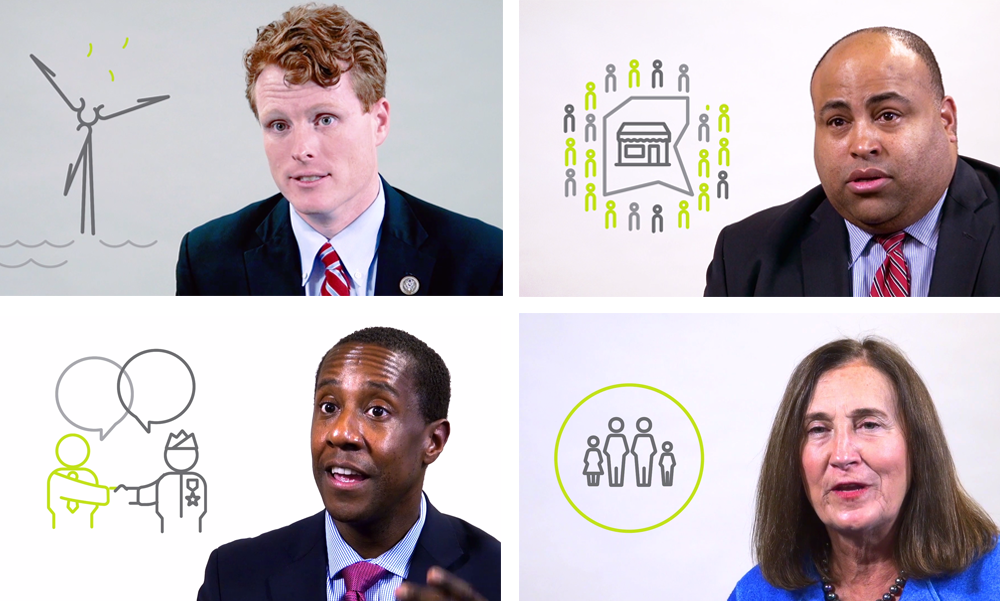 Imagine you have just come up with a bold new idea for solving a complex issue in your organization or community. You believe your idea has legs, but wonder what unforeseen consequences will emerge for the myriad stakeholders involved. What devil will be found lurking in the details? What other partnerships or perspectives could make it stronger? In short, you want to know now all things about which you will one day say: I wish I had known that from the beginning.
The Alliance for Business Leadership's (ABL) annual Leader Lab offers a glimpse into an accelerated process for refining visionary ideas upfront. With the motto, "Ideas, Collaboration, Action", ABL is dedicated to using the creativity and problem-solving skills of Massachusetts business leaders to tackle public sector challenges.
This year, Leader Lab brought together 250 ABL members along with four prominent local officials including MA Treasurer Goldberg, Congressman Kennedy, Mayor Rivera, and Mayor Warren. Their shared goal: strengthen each official's vision for tackling civic challenges, such as employing veterans and developing sustainable energy.
Collective Next enjoyed partnering with the ABL to design and facilitate this process. We developed a two-phased approach to promote collaboration and accelerate the achievement of each leader's proposed vision.
First, we rapidly level-set the ABL participants on each of the four proposals; second, we structured the feedback process in such a way as to draw on the full depth and breadth of experience in the room, while also generating specific and actionable input.
Part I: Rapid Level-Setting with Effective Communication
The first challenge to getting good input is clearly and succinctly communicating your idea. If you can do this in a way that engages and excites your audience, you are much more likely to get great input in return. Since the opportunity to have 250 business leaders and policy experts gathered in one space is a rare opportunity, we didn't want to detract from collaborative worktime by focusing on level-setting at the session.
Collective Next's strategy was to work with each of the four public sector leaders to design and produce videos that would communicate their visions to participants in advance of the gathering. For this strategy to succeed, the videos needed to be exceptionally compelling and crystal clear. To achieve this, our Creative team relied on tight storyboarding and embedded visuals to underscore key concepts.
Here are the videos Collective Next produced for ABL:

Joe Kennedy III, U.S. Representative for Massachusetts's 4th congressional district

Dan Rivera, Mayor of Lawrence, Massachusetts


Deb Goldberg, Massachusetts Treasurer


Setti Warren, Mayor of Newton, Massachusetts

Part II: Soliciting Diverse Perspectives
The second challenge to getting meaningful input from a large group is a structured process that moves from breadth to depth. To accomplish this, we divided up the 250 participants into four "tracks", each focused on one of the four initiatives. Within these tracks we then led a series of activities designed to expand participants' thinking, while generating as many new perspectives as possible.
We asked participants to individually consider a future state scenario in which they had succeeded in realizing the elected official's vision for change. We then asked them to describe how they had achieved these goals. Following upon this, working in small groups composed of business leaders, elected officials, and policy experts, participants synthesized their insights into two lists: one of challenges faced and the other of enablers they utilized.
To push the business leaders' thinking further and to channel our work toward actionable recommendations, we leveraged Hal Gregorson's "catalytic questioning." This method uses deep, uncensored questioning to unearth disruptive and innovative thinking. Out of this process, the teams identified possible action plans that would address the most critical challenges standing in the way of realizing their visions. The action plans included recommended next steps, such as who to talk with, what to be on the lookout for, and, finally, what pilots or experiments to conduct.
____________
We all have blind spots, especially when it comes to executing visionary ideas. This is in part because, by definition, visionary ideas charter into the unknown. When trying to do something that has never been done before, or when attempting to impact something in an unprecedented manner, the greatest substitute for hindsight is tapping into a wide breadth of experience and deep practical knowledge. The members of the ABL have an extensive amount of both experience and knowledge. Through these rapid collaborative activities, they were able to help MA Treasurer Goldberg, Congressman Kennedy, Mayor Rivera, and Mayor Warren accelerate their path to achieving meaningful civic change.
Back