There are elements that are somewhat universal to corporate conferences: catered meals, name badges (often with additional flair such as buttons, ribbons, stickers or flashy lanyards), keynote speakers, PowerPoint, and goody bags.
The best conferences include scribes, who are also sometimes referred to as graphic recorders or graphic facilitators. Scribes are the ones that are either situated on stage near the presenter, off to the side of the stage, or somewhere along the side of the room. They are typically working silently in the dimly lit room to listen, synthesize, and capture the essence of what's being said, visually, in as close to "real-time" as possible. Those are my people!
You may not know this, but there is a conference that happens annually for the people quietly drawing off to the side (scribes/graphic recorders) or leading the room with a marker in hand (graphic facilitators). It's a gathering of the International Forum of Visual Practitioners (IFVP). That's right, this conference is for the scribes/graphic facilitators/graphic recorders. It's a chance for the community to come together and hear keynotes by visual practitioners of all kinds, from pioneers in the field of graphic facilitation and organizational development to comic theorists. It's also a chance for plenty of attendees to step up and scribe.
There are breakouts on topics of interest for all levels of visual practitioners, from newbies hoping to learn some tips on the basics, to more advanced content on organizational development (and the role of scribing to aid that work) and envisioning the field in the future.
Did I mention the markers? Scribes are marker afficionados. At this conference, the most popular spot to spend a lot of money isn't at the bar, it's in the pop-up marker shop. The array of color and nib type is enough to make you consider checking your luggage on the way home (almost).
Attending the IFVP conference was maybe long overdue for me. I've been practicing the art of graphic facilitation since I started in the field on collaborative design sessions in 1998. My personal objectives were to re-connect with other veterans and friends, meet some new people, learn some new tricks, get inspired, and participate in conversations with others who are fascinated by this art form and are seeking to elevate the practice. I'm happy to say I met all of my objectives, and was inspired in ways I didn't expect. Fresh from the conference, there are books I want to read, artists I want to check out, and new tools I want to try.
Here are a few of my top moments from the IFVP 2016: United We Scribe
Lisa spoke about designing moments of impact, and how leaders need to approach change less like mechanics and more like designers. She talked about how she first became interested in art and design, (School House Rock, yeah!) and ultimately left us with the idea that organizations should build on the human spirit. Favorite quote: "Designers make choices that trigger the right responses."
Panel discussion on graphic facilitator-as-listener moderated by Anthony Weeks
Anthony tried to get inside the minds of his panelists to investigate the listening aspect of graphic recording. He asked his cross-industry panelists "How do you listen in your work?" It was a fascinating discussion about the part of scribing that is hardest to understand and teach. See my sketchnotes of this session below. What's more, this discussion seemed particularly timely to me, as we at CN are currently doing a lot of thinking, talking, listening, and writing on this topic for our current blog series, Leading by Listening.
I was on this panel, and it was a treat to be part of the conversation with the other panelists. Sunny asked questions about the basics like overcoming curveballs and educating clients on what we do, as well as some more thought provoking questions of on topics such as ethics and professionalism.
I did not know what to expect on this evening. The evening was a fun combination of cocktail party, talent show (complete with cheesy jokes about markers by someone dressed up as a marker!) and dance party.
It's not easy to summarize this incredibly engaging talk. Scott spoke about the art of visual communication, providing plenty of humor as he shared examples of graphic fails from all over the world in order to remind us of the importance of principles such as scale, space and sequence. The big takeaway: "Every visual choice we make matters."
There were many other great breakouts and keynote speakers. The conference was a tremendously worthwhile way to spend three days, and I'm glad I had the opportunity to participate. Thanks to all who shared their knowledge, ideas, friendship, and markers with me this week at IFVP 2016! Let's keep in touch!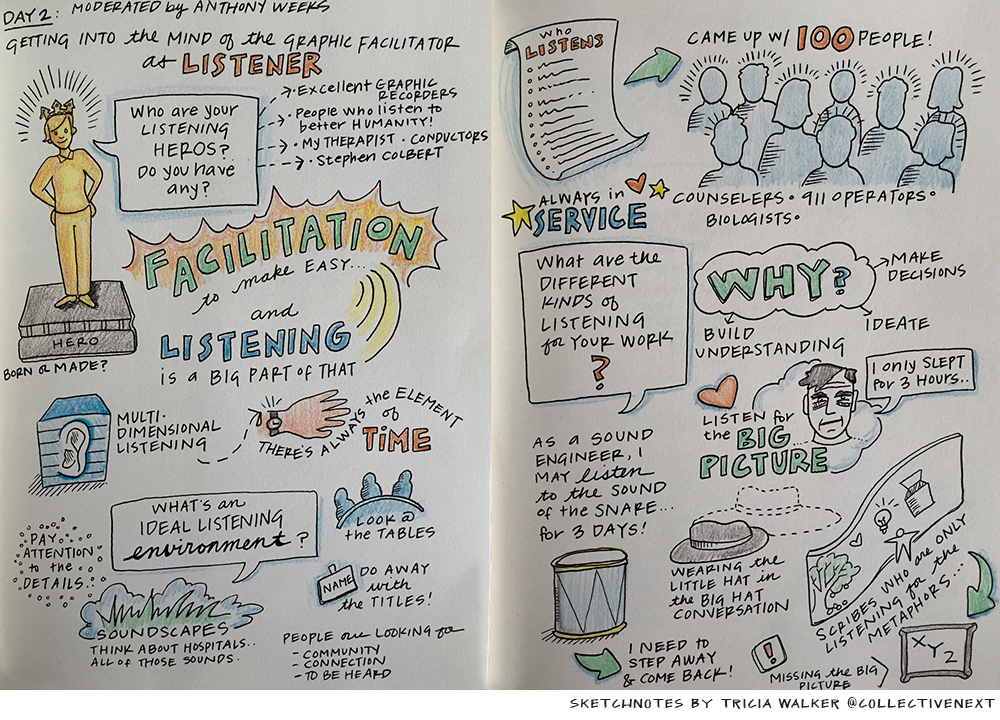 Back