Every Friday, we here at Collective Next attempt to practice what we preach and gather together to think better and move innovative ideas forward. Today we were excited by Steven Pressfield's book "The War of Art: Winning the Inner Creative Battle", which illustrates several interesting examples of people overcoming resistance and the key ingredients necessary to achieve full creative potential.
As we discussed the book and the role of resistance in the creative process, we began to conceptualize resistance not as a variable, but an essential component of the equation to achieve full creative potential. More specifically, we posited that resistance and the act of overcoming it are the driving factors of effective collaboration and creativity.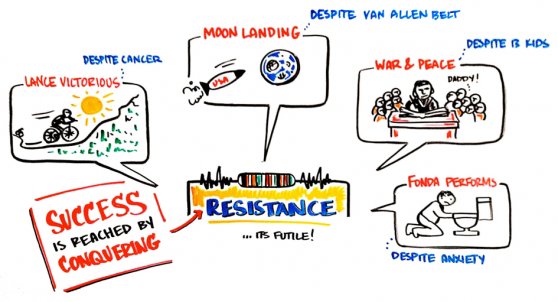 We defined resistance as roadblocks that hinder progress, such as differing ideas, scheduling, etc. When faced with roadblocks, whether internal or external, we can choose to stop or embrace the challenge and develop creative solutions.
These roadblocks stimulate creative tension, which is uncomfortable, but a necessary ingredient of learning (see our blog posts Get Dirty and Marrying Two Methods). Creative tension motivates people to reflect on their process, galvanize, gather support, spread ideas, and clarify their goals, all essential components for overcoming resistance.
The actual act of overcoming resistance increases investment in the process, confidence, and the determination necessary to complete the creative process.
Thus, resistance sparks creative tension, which fuels the ability to design creative solutions. Those creative solutions help people overcome resistance and coalesce the determination necessary to complete the creative process.
What do you think? How do you think resistance affects creativity? What are other great examples of overcoming resistance or creative solutions?
Back