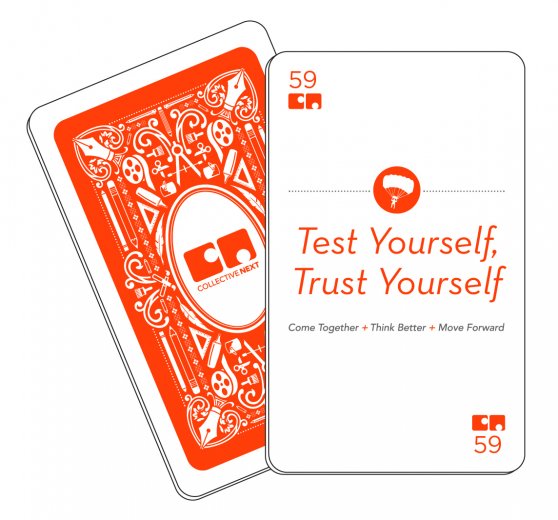 This is one of a series of posts we're running this summer about the Collective Next Cards.
It's testing and trusting that bring inventions to realization. Necessity, by itself, isn't mother to anything. It only aids in creating an environment ready to foster exploration and innovation.
At Collective Next, we challenge ourselves to develop new and exciting experiences for our clients. At times they may be out of our comfort zone. For instance, I once wore a full body polyester gorilla suit to a conference. Proof:
Doing something new requires trust and experimentation. Our business needs to trust us to add value; we need to trust ourselves to be able to deliver; most important, our clients need to trust us enough to pilot a new product. Once all those trust issues are out of the way, we can address the problem. This is the test phase where we research possibilities, experiment with some ideas, and start to develop an innovative solution.
At a recent client offsite we did just that. The client had already decided to use super-scribing (real-time digital visual capture) at the event, but it also wanted the ability to show an artifact from the scribing. It would have been easy enough to create static images of the resulting images, but we recognized that it could be more engaging for the participants if we could produce a video of the scribing in action that could be set to loop in a common area throughout the event. The participants would see it as they left the room and it would reinforce wha they just experienced inside the room.
This clip, which was for a financial services client, was one of nine we did for speakers at an event. They were all 15-to-20-minute-long talks; our challenge was to listen and perform real-time scribing not in the same room as the speaker. We created and synthesized simultaneously, pulling out key points, connecting them, capturing the main points in real time — and we had to do it nine times over the course of a day. Talk about testing yourself and trusting yourself.
Back