We're celebrating our 15th year in business at Collective Next. As we close out this momentous year, we're taking a moment to spotlight some of the talented humans at the core of our operation and our success. Here's Solution Designer Hamilton Ray talking cooking, problem solving, and being an official media outlet for the Braves.
Hamilton has been a facilitator with Collective Next since the beginning. If you've seen him facilitate, you may not be entirely surprised to find out that his first passion was theater. It also may not surprise you to learn that he favored comedy because of the "immediate audience feedback" it offered. Hamilton continues to value close attunement to the needs of his "audience," even as they have morphed from Emory college kids to executives at global companies. When working with Hamilton, don't be afraid to bring up the topic of food—he loves cooking, is a kitchen gadget junkie, and is currently obsessed with mastering the perfect sous vide brisket.
How did you get into this work?
I had been running a theater company in my hometown of Atlanta and decided to move to New York City to try and make it as an actor. Once there, I connected with a friend who was facilitating collaborative strategic planning workshops. He recruited me by explaining that much like putting on a play, he designed and ran big events; something he thought I might really like it. Turns out I did. I quit acting and started working as a facilitator full-time. That was over 20 years ago.
What is your favorite part of the job?
There are so many answers to that question, but two rise to the top. First, I love solving problems and at the end of the day that is what my job is all about. It is how my kids explain what I do. I bring people together and help them draw on multiple areas of expertise to generate solutions to complex challenges. Or, more simply, I help people solve problems, and I love that.
A second aspect of the job I love is the opportunity for continuous learning. I am curious by nature, and this work is the best business school you could ever hope to attend. I've worked in every industry and regularly interact with amazingly smart people. I am constantly engaged in real world learning about how businesses and organizations work, about the dynamics of a system and how people interact. If you think of every creative intervention I have delivered to clients as a "business school course", then I've taken over a thousand classes on such topics.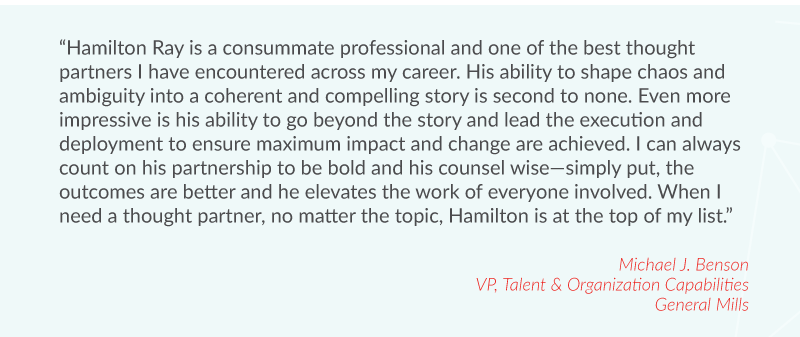 What are a few creative interventions of which you are especially proud?
One is a three-day workshop I ran with a global consumer goods company that was underperforming. The crux of their challenge was that while they were nominally a global company, they hadn't embedded a global mindset nor overhauled their operating principles. The company had just brought on a new CEO and he was under intense pressure to show results. Recognizing that the company had never convened all of their 100 global officers in one place, we saw an opportunity to bring these executives together to collectively design a new approach to the future. Facilitating them through tough conversations and giving voice to everyone in the room had a transformation effect.  Within a couple of quarters, the company's earnings had begun to around, and now they are on a path to return to growth.
Another creative intervention that stands out for me consisted of a series of connected interventions. These began about seven years ago when the new CIO of a large bank partnered with us to transform the dysfunctional IT department she had inherited. We began by facilitating a two-day workshop for her leadership team focused on developing their vision and high-level strategy. At the close of the workshop, the CIO set a two-year horizon for execution. Less than two-years later, after successfully implementing on the new strategy, she reached out to plan another workshop intended to refresh and expand their strategy. This continued one to two years until our client was promoted to COO based on her demonstrated ability to set and execute on strategy. Now I regularly meet with her and her team to refresh and reset her strategy. Contributing to both the bank's success and her personal success has been very rewarding.
You have been with Collective Next since the beginning. The company turns 15 this year, where do you see the organization headed going forward?
Historically, our mandate as facilitators was to be process rather than content experts. Rather than offer up our point of view on a solution, our conviction has been that you know what the right answer is, we just need to get you unstuck. However, after 15 years of working with almost every large company you can name we have the responsibility to bring our huge knowledge base to bear. We won't function as a traditional consulting company, but we have built up somewhat of an expertise in topics such as strategy development, digital transformation, finance modernization, talent development, and many others that we owe to our clients to tap into. It makes us better and it will make them better.
The other direction I see us headed, is that we will increasingly weave series of smaller creative interventions into larger and more holistic engagements that may last for months or years. We are most effective at realizing meaningful change when we are broadly embedded within a client over time.
What's an ideal Sunday morning for you?
For the past ten years, most Sundays involve spending time with my family and then prepping to co-host a podcast on the Atlanta Braves (http://www.atlantabaseballtalk.com) that I do with two longtime friends. We have hosted over 400 weekly shows and have an average of 6,500 listeners per show. In fact, we are recognized by the Braves as a legitimate media outlet—we get access to the clubhouse and press box and we've interviewed many current and former players. We have a devoted following because we are sports talk alternative. We are focused on the fan's point of view and offer thoughtful, dialogue-based content. I think the show has some parallels to Collective Next in that we provide an alternative to mainstream offerings—and have a lot of fun in the process.
[Photo: Kelly Davidson Studio]
Back