The Cambridge Innovation Center boasts one of the highest concentrations of startups under one roof on the planet. With that amount of innovation spilling from its windows, it is no stranger to the delicate dance between entrepreneurs and large corporations. Though the potential for a mutually beneficial collaboration between these two is great, too often partnerships between entrepreneurs and corporate innovators become hindered by a lack of understanding or misaligned expectations. So on February 15, the Venture Café and Innovation Leader brought together experts from both ends of the spectrum for Corporate Innovation Night, a candid discussion focused on helping entrepreneurs and corporate innovators work better together.
To help maximize the effectiveness of the event, Innovation Leader's CEO, Scott Kirsner, invited Collective Next to co-design and help facilitate the event. I was there to run the program and graphic facilitator Evan Wondolowski scribed the discussion.
The impressive variety of local draft beers and snacks provided by Venture Café were a good start toward inviting candid conversation. We began our program by asking participants to huddle in cross-pollinated groups and capture their top recommendation in each of the following four categories:
A best practice for start-ups working with big companies
Something for start-ups to avoid when working with big companies
A best practice for big companies working with start-ups
Something for big companies to avoid when working with start-ups
Teams then shared their recommendations and the large group worked together to identify a list of "better practices" from the common themes that emerged across all teams. This crowdsourced list of frustrations and enablers set the frame for Scott Kirsner and a deep bench of corporate innovators, including Claudia Reuter from Techstars, Alex Darie of Philips Lighting, and Dina Routhier from Stanley Ventures, to explore the most relevant topics more deeply with participants.
The amount of fervor in the room and level of insight shared by both entrepreneurs and corporate innovators demonstrated firsthand the exponential power that effective collaboration between them can elicit. And their work together helped lay the groundwork for increasing the intentionality necessary to achieve it.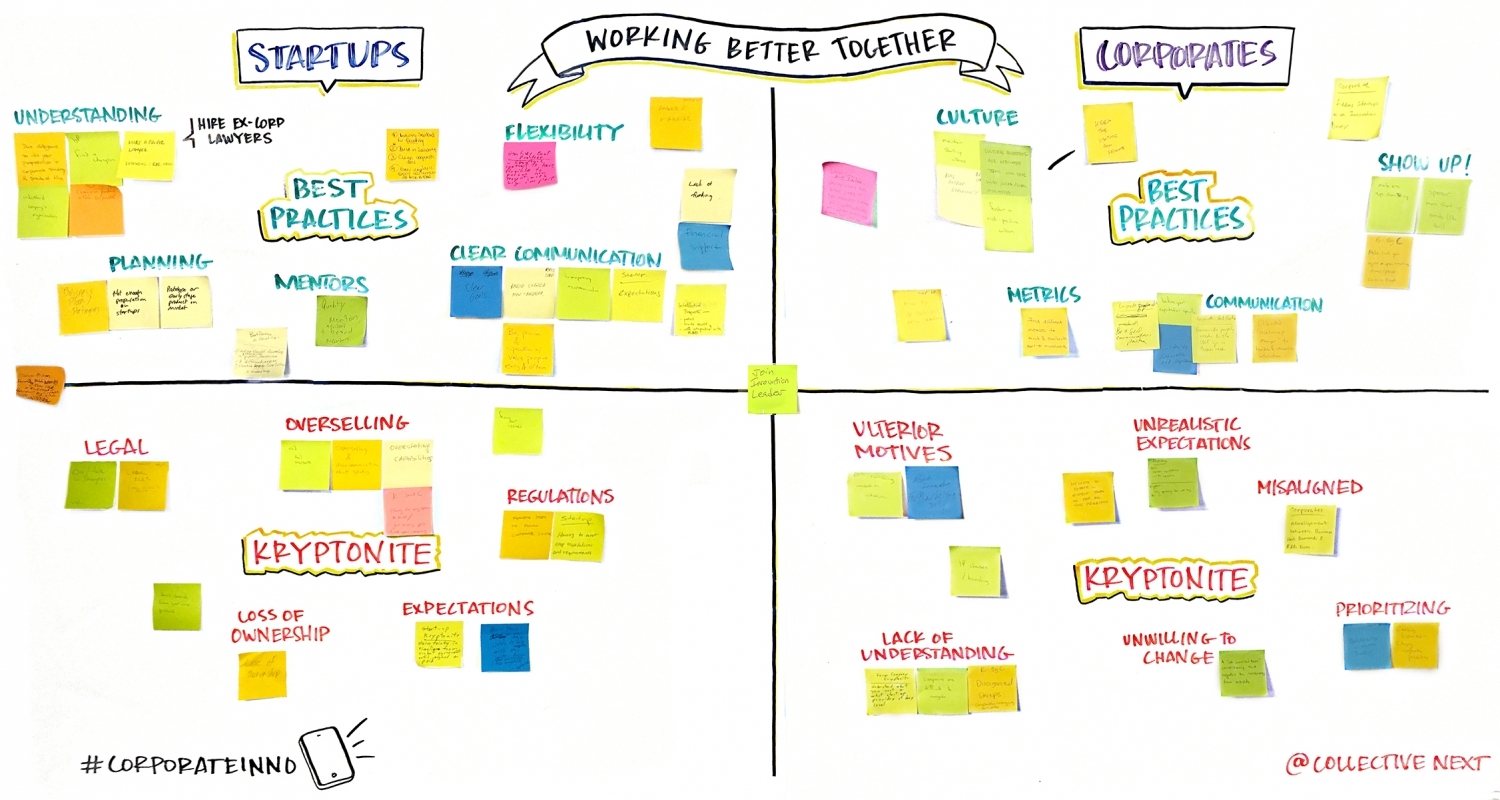 Back