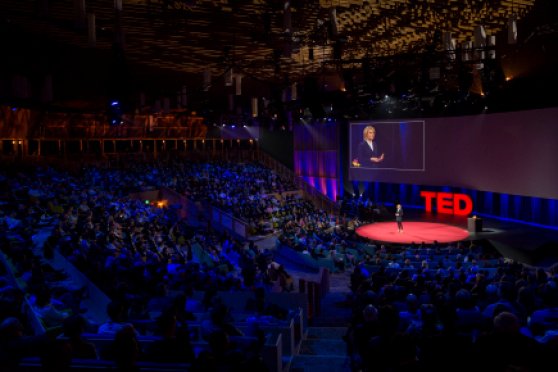 Yesterday our founder and CEO explained Why I (Still) Go to TED. Today, a bunch of us at Collective Next share our favorite TED Talks — and why. It's an excellent starter list for people new to TED Talks, as well as a way to dig into some of the matters of collaboration, creativity, and innovation that interest us so much here.
Mary Choi Smith says, "One that really resonated with me was Shawn Anchor's
The happy secret to better work
. It's about the lens through which you view the world, and having a bias toward being positive. I like that the ideas are philosophic and instructive."
Erin King gives a shout-out to Kate Stone's
DJ decks made of…paper
. "I love the mix of age-old media with brand-new media. And who doesn't want to DJ on a paper deck?"
Evan Wondolowski cites
A mouse. A laser beam. A manipulated memory
by Steve Ramirez and Xu Liu. "I was fortunate enough to work with these guys for TEDxBoston2013 assisting in the coaching process and leading the design of their presentation graphics. Great talk,
great people
."
Hamilton Ray writes, "My favorite TED Talk is probably
Reggie Watts disorients you in the most entertaining way
, even though he doesn't really 'talk,' but it is highly entertaining. My second favorite is John Hunter's
Teaching with the World Peace Game
. I admire him, I love the concept of teachers as facilitators, and it is a very inspiring and hopeful 20 minutes. It feels cliche to say one man can make a difference sometimes, but not in this case. We need more John Hunters."
Rachael Maggiani directs your attention to Chimamanda Ngozi Adichie's
We should all be feminists
. "Adichie uses her humor and intelligence to perfectly explain how every gender benefits from feminism, and why the movement should be supported wholeheartedly by all!"
Kathy Clemons recommends Brene Brown's
Listening to shame
. "It's amazing. Every leader should watch it more than once. I need regular reminding that 'handling everything' isn't necessarily the best strategy, and that it's better to be candid about where you are/how you feel/what's happening than bearing that burden alone. (Kris Henry cites another Brown TED Talk, on
the power of vulnerability
.)
And, finally, Kate Dwyer picks Pico Iyer's
Where is home?
"I'm never quite sure how to respond when asked (usually while on a plane or train), 'Where is home for you?' This talk is a favorite because it beautifully encapsulates that dilemma, and Iyer's final thought — 'And home, in the end, is of course not just the place where you sleep. It's the place where you stand.' — still gives me goose bumps."
Back