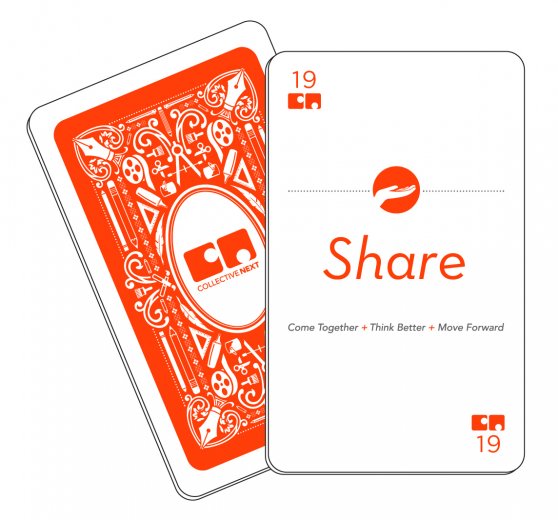 This is one of a series of posts we're running this summer about the Collective Next Cards.
Goldfish crackers, Legos, and crayons. These are the things that preschoolers share. Experiences, best practices, and perspectives. These are the things that adults should share.
As a child, you are asked to share your things. If you are willing to give up a little bit of your piece of something, you are generous. As an adult, you are seldom asked to share your things. It's the intangibles that are considered to be of value. Generous adults share their experience with others. Why is that what's valuable?
Giving a bit of your knowledge and wisdom is the greatest gift you can give. This is true in so many settings, and it is absolutely true in the workplace. Part of my calling and my passion over the many years I've worked at Collective Next has been to make sure that all of our experience is shared with the newest members of our community. This business of facilitating collaborative sessions has a lot of philosophy and experience behind it! We don't want our clients to suffer a less than excellent experience while they're working with us, so we share. We know that sharing is the way to deliver the best experience possible to our clients.
Many of our clients don't have opportunities to share with one another. Or perhaps they just need help creating those opportunities, and that's where we come in. We purposefully design the space for sharing, and it's a big part of the reason that we are able to promise an accelerated result. Getting the perspective of your colleagues is one of the best ways we know to increase the "stickiness" of any solution, and we know that you'll benefit from sharing with each other.
Sharing is a close cousin to collaboration, but there is something about sharing that collaborating cannot boast: you can share with no expectation of getting anything back. Collaboration promises the possibility of a solution or thing that you create together. Sharing only promises that you leave the situation with the knowledge that your wisdom, your view point, your idea is now resident in another person.
All companies can benefit when individuals make the commitment to share what they have with each other. There are simple ways to make that happen:
Propose an informal meeting with someone outside of the work you're doing to elicit his or her perspective on something you're working on. Make sure you have a defined start and end to the meeting to be respectful of their time.
Think of something that you're really good at, and let people you work with know that you are willing to help them in that area, either in person or via phone, etc.
Offer someone new some informal guidance (if you think they'll be open to it). Invite them to lunch to see how they are feeling in their new role and figure out what you have to share about your own experience that may be useful.
I'm always so grateful whenever my colleagues are willing to share something with me, and I'm happy to share what I have with them! I just hope no one asks me to share my snacks. Those are off limits.
Back