Video is ubiquitous, and gaining ever more momentum. A quick look at YouTube statistics paints a picture of how much video there is in the world today. When I'm presented with this type of media while on a plane, in a taxi, in an elevator – and yes, even in the bathroom of a fancy hotel – I often find myself thinking about how and why they were produced. As someone who makes movies on a regular basis, I see the unique potential for this medium to bring stories to life visually, both as products but also as helpful process tools.
How can making movies help you work better and gain clarity about your ideas? That's the topic for Episode 7 of our podcast NibSqueak, released today. In this episode, Making Movies (available above), Bree and I talk about animation, explainer videos, and the power of storyboarding. We get down to specific tips and techniques you can use to help bring to life a story that you need tell.
On this episode we reference a tome we both have on our bookshelves, Understanding Comics by Scott McCloud. It will change the way you see comics – and movies!
We then talk to our friend, neuroscientist Alex Wiltschko, about his recent experiences making this video to help report his truly fascinating findings from studying the body language of mice.
And here's an example of an explainer video that we created show how mutual funds work:
Also during this episode we'll walk you through a short storyboarding example. Below is our sketch of that storyboard. You'll surely recognize side-ponytail woman from Bree's new (fictional) fitness app.
Keep it squeaky!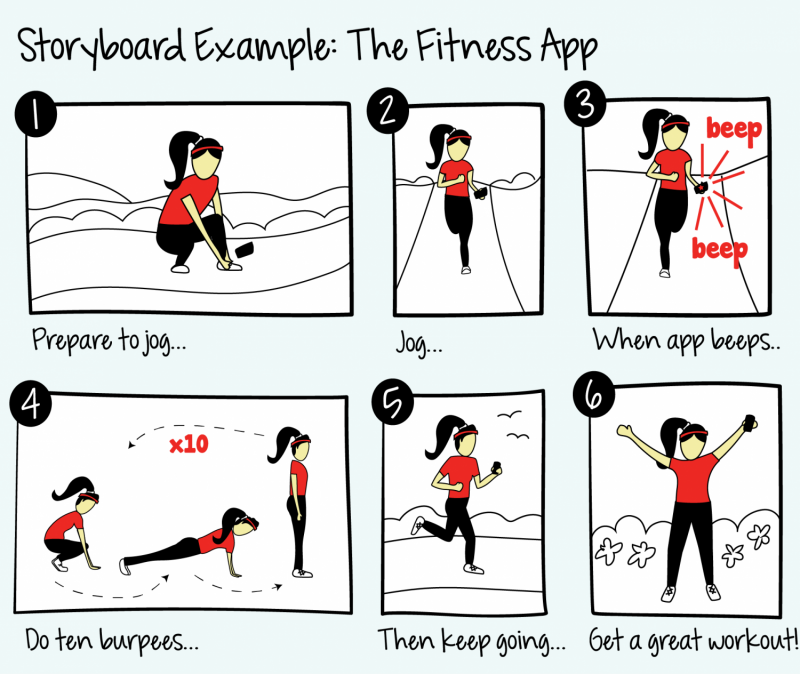 NibSqueak is our podcast about using visuals to communicate, collaborate, and work better. For a complete episode list, visit nibsqueak.com.
Back