Due to the highly sensitive nature of the session, we've brought our case study to life with a fictional scenario that will be familiar to fans of Parks and Recreation. Above: We used visuals to create a warm welcome and a structured introduction process.
Challenge
In early 2020, a prestigious NGO approached us seeking new ways of addressing a long-standing political and social conflict. To many, it seemed all avenues for resolving this historically intractable problem had been explored. We believed that introducing a new ideation process would generate fresh perspectives. In partnership with our client, we designed a half-day, in-person meeting centered on "what if" scenarios. However, a second challenge arose: COVID-19 eliminated the possibility of face-to-face meetings. We would need to deliver the same results virtually.
Solution
We designed and facilitated a virtual meeting that accomplished two interrelated goals:
Deliver a dynamic and engaging experience for all participants, in spite of the virtual limitations
Generate fresh ideas and approaches to solving an age-old problem by introducing our participants to a new process
To deliver on the first objective, we focused on interactivity, which allowed us to maximize the human experience. Creating an engaging, flawless participant experience required a new level of workshop design thinking and preparation, including a thoroughly rehearsed plan in advance.  Examples of our interactive process included:
We welcomed meeting attendees with music and a full-screen, hand drawn image
We facilitated a fast-moving, but personal process for attendee introductions
We provided a visual overview of the session and objectives
We provided hands-on facilitation in each virtual breakout room
We utilized participants' pre-work to create a "collective visual" that jump-started the conversation and allowed us to get to the meat of the meeting very quickly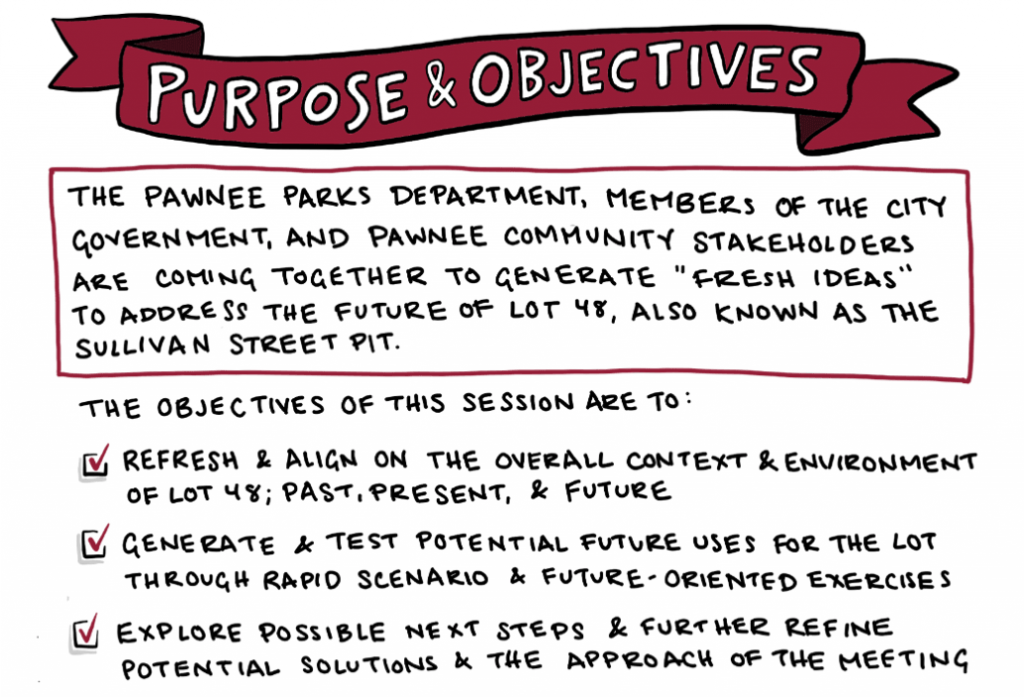 Visuals further supported a seamless experience by clarifying our objectives.
To ensure that we helped our client generate new ideas and perspectives we used a two-part approach:
First, we conducted a collaborative environmental scan to create an aligned understanding of current and future threats and opportunities
Second, we utilized future-based, "what if" scenarios to free up participants' thinking, enabling them to challenge sacred beliefs and orthodoxies
Impact
The client identified and interrogated past assumptions, while generating a set of ideas, which presented new paths to tackling an historically intractable challenge
We successfully introduced our client to both a new process as well as how to design and run a productive virtual meeting
Our client was inspired to expand their scope and engage a broader and diverse set of stakeholders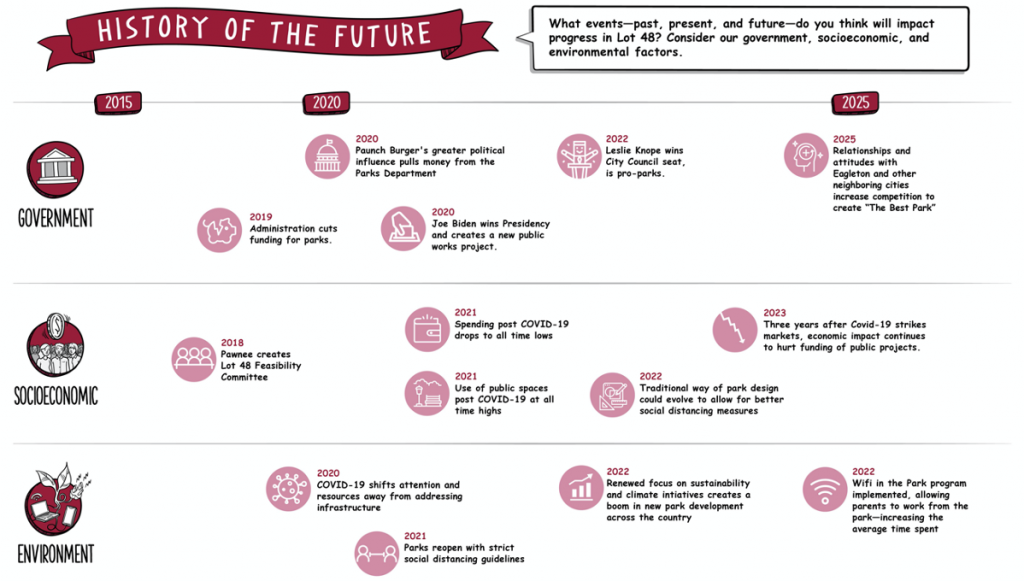 With support from our creative team, the participants' environmental scan (aka "History of the Future") was transformed into a collective visual.
Back