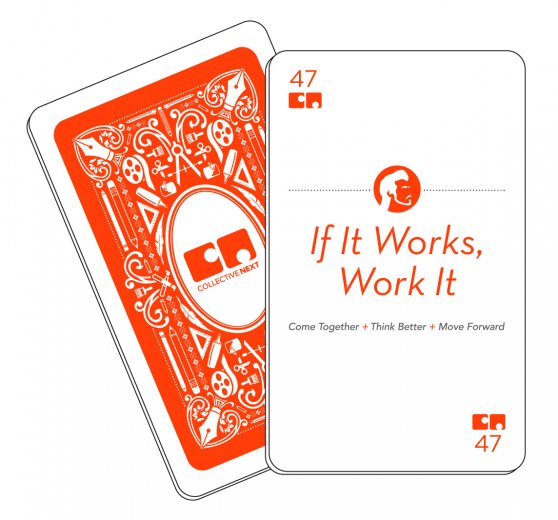 This is one of a series of posts we're running this summer about the Collective Next Cards.
I've spent a fortune on cleaning products in an effort to have a spotless stovetop, a smudge-free refrigerator, a streakless mirror. "New & improved!" "No streaks!" "Organic!" For years, my Aunt Noey told me to try vinegar and water on glass. "It works!" she exclaimed. But I thought she's old fashioned and out of touch with new innovative products. I ignored her … until I had a stubborn glass orb light fixture over my dining table. Every time the light changed in the room, I'd notice a new streak or a fingerprint. In desperation, I pulled out the vinegar. Magic. I should have listened.
At Collective Next, we say "if it works, work it." Recently, I designed a collaborative working session for a group of executives exploring the question "How can our culture enable us to address the challenges of the future and be the best in our industry?" The company is already a leader. It's lauded for its culture. This session needed to stretch their thinking, provoke new thoughts, open up new insights, and give the executives a chance to think as opposed to act. I proposed an activity in which the execs would break into teams, each with a set of readings about what others are doing, how culture is changing, and how the workforce and customers are changing. The pushback: "What? You want the executives to read? Quietly? Without their phones or computers?" This will never work. Vinegar. We must pull the key insights out of the articles and present them via PowerPoint.
But that would have defeated the purpose. We want the executives to have the space to think and to draw their own insights, based on their unique knowledge of the company, strategy, customers. And then, we want them to have a conversation about it—combine their insights to create new ideas, not simply extract what was said in an article.
This made people uncomfortable. Our session sponsors were nervous. I pulled the "trust me" card. And I had to reassure myself: "You know this works. Work it." We made sure that every article, video clip, and book excerpt was rich and thought-provoking. Then we let the execs do their thing. And it was quiet. And they read. Some even used highlighters. And then the talking began, people were engaged, and great new ideas emerged.
The business world has gotten fancy. High tech, low touch. Fast. Efficient. "New & Improved." Sometimes, though, you still need vinegar. Thanks Noey.
Back