Below is the fourth installment of our series on The Aesthetics of Change, and Part II of Our Living Case Study. In Part I of the case study, Can You See Me Now: Scribing From A Mile Away, and in the piece below, we seek to bring the abstract ideas about art and change that we explored in our introductory piece into the here and now.

"It's hard to be humble when you're stunting on a jumbotron." —Kanye West
Okay, it wasn't a jumbotron, and we weren't "stunting" in a literal sense, but it's still hard to be humble when you're SuperScribing on an LED wall that is a staggering 25 meters wide and 5 meters tall. That was us two weeks ago in Singapore at Innotribe, where record attendance made us the main stage and main screen for most of Sibos 2015 (the world's premier financial services event)… hard to be humble…

This photo of the plenary area (aka Space Ship) LCD screen shows the sheer size of our canvas. Check out the size of the speaker in relation to the LCD space. That's Innosect's Jay Van Zyl, talking about the history of technology. And though this pic does not show SuperScribing, Collective Next created these visuals too!
A Shared Canvas: Sometimes Size Does Matter
May I give you those numbers again? Twenty-five meters wide by five meters tall (that's about 80 feet wide by 16 feet tall in American-speak). It was onto the pixels of this massive canvas our SuperScribing was etched. At this scale, we were delivering the IMAX version of graphic facilitation—an all-encompassing sensory experience. Ideas writ large. Literally.
Cranio-centric concepts morphed into palpable imagery before our eyes. What better way to embrace William James' conceit that we must engage our whole selves and not just our brains for transformation to occur?
But it wasn't just the size…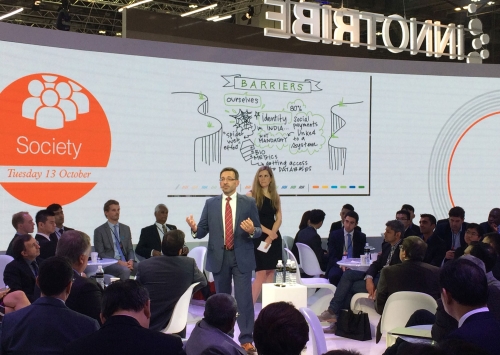 Sam Maule and Christine Duhaime on Leveraging Modern Payment Platforms.
The Play's The Thing
…It was also the level of sustained engagement and the pure sense of fun that was created as we super-scribed the audience debriefs.
The massive screens were already a powerful component of the workshop experience. They showcased phenomenal high-tech presentations throughout the event and, as in prior years, the content streamed vividly from the presenters to the participants. But this year with SuperScribing, we broke down the fourth wall and invited the packed hall room of participants into a large-scale visual dialogue. The screens became a shared canvas for their collective musings.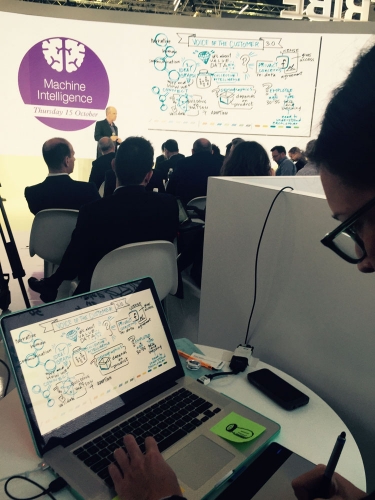 Our super SuperScribe, Gretchen Ruppert-Allen, in action.
When SuperScribing, the scribe operates from behind the scenes via stylus and tablet. As a result, ideas unfold in visual form with no visible hand or intermediary. This enhances the audience's ability to immerse themselves in the aesthetic experience AND it underscores the fact that the participants themselves are acting as creators.
In our recent interview with Harvard Professor Doris Sommer, she described the ways that artistic activities draw forth passion and reason. The interplay between these two crucial aspects of our being is both pleasurable and productive, she notes.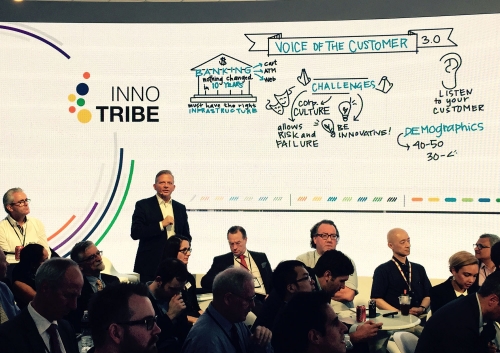 Fidor CEO Matthias Kröner says banks should listen to their customers and focus on corporate culture.
But it's not always easy for adults to get into play mode. And that's one of the benefits of SuperScribing. Once our scribe offered up initial illustrations of participant ideas, contributors began to respond with vivid descriptions, and visual metaphors abounded to bring their ideas to life—pigs and lipstick, apples, and much more. Their passionate selves and their logical selves were beginning to "play." And the more fun, the more pleasurable the activity became, the more people wanted to increase their involvement—and the more creative the ideas became.
It's All About "Networking"
Participants fed off each other's ideas. So as they co-created a visual map of their ideas, they also mapped connections between themselves. This reminded us again of Sommer's interview, in which she described how one idea leads to a "repercussion and then to others, as the artwork becomes a vehicle for unscripted 'melt-ups.'" The SuperScribing became a catalyst for such melt-ups, such bubbling up of new creativity.

But what about the individuals squeezed out of the standing room only sessions? Or those who wanted to engage from afar, from the home office? What about touching back to these ideas after each workshop, or after the session in its entirety? Once again we employed animated scribe stories to provide visual playbacks of our idea journeys (see the video below and others on Vimeo). Innotribe's social media team incorporated these animated scribe stories into their daily recaps. By publicly sharing our creative experience, we hoped to trigger further "melt-ups," and expand the co-production of insights and ideas to those not physically present, and those who wanted to review and re-play.
Overall, the entire Innotribe experience was fulfilling on so many levels. We have the great privilege to collaborate with creative geniuses, true professionals, innovative thinkers, and total goofballs in our work—but rarely all at once. Sibos was one of those rare and wonderful opportunities. Thank you, sincerely, to all of the people with whom we had the good fortune to partner, including some of the world's most innovative and brilliant minds in FinTech and beyond: Peter VanderAuwera, Kevin Johnson, Fabian Vandenreydt, Fabio Maffioli, Audrey Rase, George P. Johnson and others.
We look forward to continuing the conversation next year in Geneva!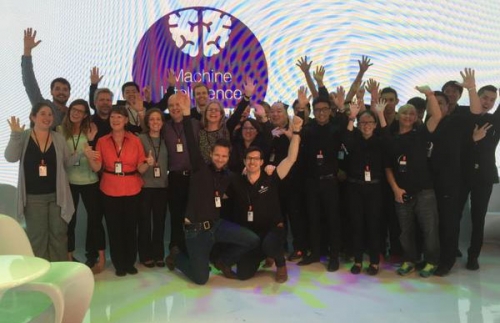 At the tip-top: Swift's Peter Ware closes down one of the most successful Innotribes ever.
Back