Even those of us who love TED have a complicated relationship with it. Many have recounted the elitism of the main event and the rise of the TED Talk as a rigid form; others have parodied that form effectively. And there's a small industry of consultants who say they can help you deliver a TED-quality talk. (Disclosure: This includes us. We at Collective Next have worked at many TEDs and TEDx's, we helped found and run TEDxBoston, and I've spoken at TED twice [1,2].) But, as lovers of TED, we argue emphatically that it's a fabulous way to get exposed to ideas worth spreading. At the opening of the 30th anniversary TED last night in Vancouver, curator Chris Anderson suggested that one of the keys to TED's success longevity is that both he and his predecessor as curator are "curious and impatient." Give us the talk of your life. But give it to us quickly.
That's the excitement of TED in a nutshell, the promise that you might witness people giving the talk of their lives. A few times every year, the event delivers just that, as these examples from Jill Bolte Taylor, Sir Ken Robinson, and Bryan Stevenson attest. So this week on the Collective Next blog, we're going to share what we've learned over the past decade of working with clients regarding how to improve your chances of delivering the talk of your life when you hit the stage. We started this last week, with notes from Kathy Clemons on the benefits of preparation. Today we'll offer some general thoughts; as the week progresses (and as TED progresses in Vancouver), we'll go deep on particular topics.
It's a Talk, Not a Presentation
Yesterday, I sat in on a call with Geoff Amidei and Mason Smith as we onboarded a client who's got a high-profile talk in front of him. I was particularly taken by how Geoff differentiated a presentation, which people do every day, to a talk, which is a different form.
In a presentation, Geoff suggested, it's the slides that get the attention. Your success is based on how well you deliver the information on the slides. In a talk, you're telling a story. Success comes from whether you offer a good story, well told. In a presentation, slides and other collateral are the primary point of focus. In a talk, you selectively use visuals to enhance the story. Indeed, if you look at some of the best and most popular TED Talks over the past 30 years, the speakers don't use slides at all. They stand in front of us, and share an honest, specific story.
So what makes a good talk? From our many years of speaker presentation, we've found that people who follow these guidelines are far more likely to share a story that makes a difference.
1. Don't confuse a talk with an academic argument. Rather, a good talk is an exercise to engage an audience.
2. Don't try to squeeze in everything. You can't. Your job is to filter what will matter to this particular audience.
3. Keep the experience paramount, not the slides. The audience isn't there to read what's on the screen behind you; they are there to take in your story.
4. Show your personality, or at least the part of your personality that you want to share with this particular audience. In a sense, try to be yourself on purpose.
5. Make them laugh. Chances are the point of your talk is to educate, but that doesn't mean you can't entertain as well. If you can make the audience laugh, you'll keep that audience alert and they'll learn more from you.
6. Tell the truth. People often present what they think the audience wants to hear rather than what the audience needs to hear. This is your one chance. Yes, being honest can make an audience uncomfortable. But telling the truth will make it more likely that the audience will respect you and find the humanity in your talk.
7. Rehearse, rehearse, rehearse. Then rehearse again. As mentioned above, you need to be prepared. But don't turn into a robot or simply recite your text from memory. You're performing, not reading.
8. Move around — animated speakers are much more engaging. Gesture. Stalk the stage. Pace. Let people see you really be you as you share your story.
9. Be you, because you're the only one who can be you. A surefire way to make sure your story gets remembered is if you do something unique compared to all the other people in front of that audience. What do you have to offer that no one else does? What's the story that you, only you, can tell?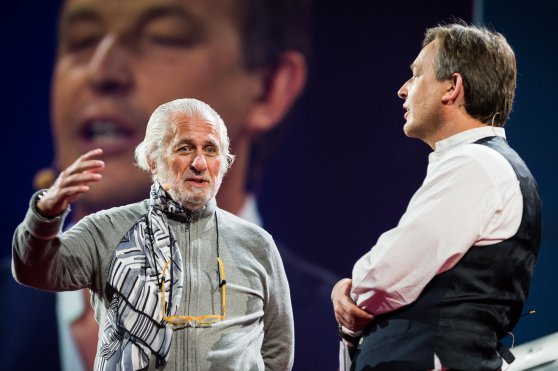 Back