My team and I have had the opportunity to scribe the talks at TEDxKids and TEDxSMU for the past few years. It's a two-day session that takes place at the Dallas City Performance Hall. TEDxKids@TEDxSMU is day one, followed by TEDxSMU (proper, for grown ups) on day two.
We always expect a great deal of inspiring talks and new friendships to form with like-minded idea-makers, big and small/young and not so. This year's speakers were excellent, as expected, and I'll share some of my favorites below.
AND this year was different because Collective Next brought our TEDx support to a whole new level (or as the kids say, HNL) by providing a collaborative forum for participants to explore and work with the big ideas generated at the conference. More about that in a bit…
Unexpected Speakers
The theme for TEDxKids and TEDxSMU 2015 was Unexpected. Each of the speakers provided something truly unexpected during the course of the two-day conference. Here are a few highlights:
Joaquin Zihuatanejo: Joaquin's was the very first talk, the morning of the first day – and he blew us all away. Through poetry and conversation, he spoke from the heart about owning his weirdness and awkwardness when he was young. Joaquin imagines a world where kids are equally passionate with writing and poetry is they are with sports – if not more so. Joaquin implored kids to start a "write club" at their schools, as a means to process their environment and feelings in productive and creative ways.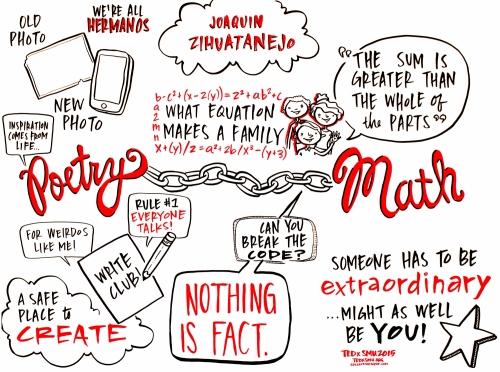 Jake Minton: Jake's talk at TEDxSMU was truly inspiring. He spoke about gender inequality through his daughters' eyes. He explained: "You can be what you can't see." When you're a girl and all you see are men at the control center of the recent Mars Curiosity Rover landing, it affects your sense of possibilities for becoming a scientist or NASA engineer. To take action and help combat gender inequality, Jake decided to become a Kindergarten teacher – a job that is overwhelmingly (98%) filled by women. His talk really hit home for me, as I thought of my own daughter's hopes and dreams for the future. It reaffirmed my desire to show her the possibilities, those readily visible and those not yet so.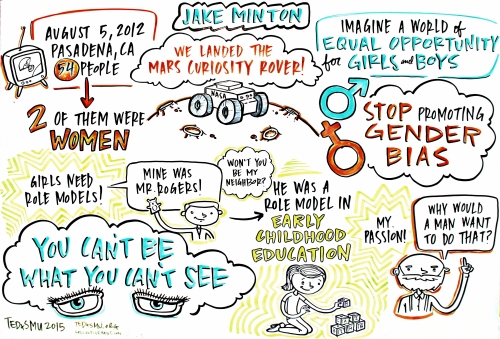 Noelle LeVeaux: Described her unexpected life wake-up call that occurred in the midst of battling breast cancer. Noelle vulnerably shared her story of going through the motions day by day with cancer, and the realization of being "asleep at the wheel" is no way to live your life.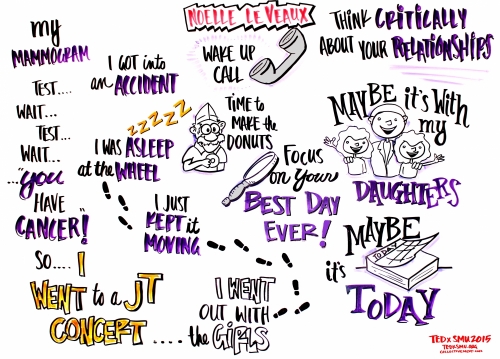 Jon Stolk: Introduced the notion of autonomous learning, and providing kids with real tools and real – though sometimes difficult – choices. And he mentioned our theoretical friend Carl Rogers in his talk.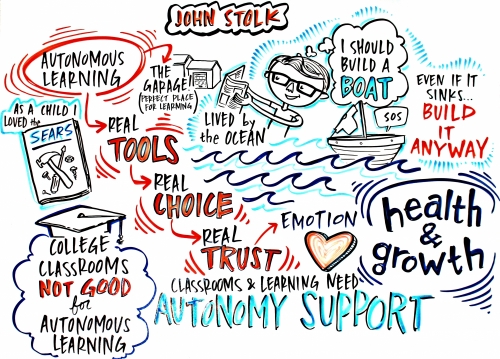 Tracy Brown: Reflected on tragedy and race in recent events of 2015, and helped us envision a world that fully embraces fairness and equality.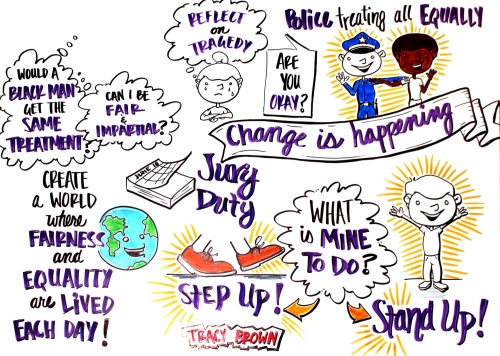 Jessica Shortall: The author of Work. Pump. Repeat. shared true stories of working mothers, and the benefits of adopting a national paid leave program for new parents.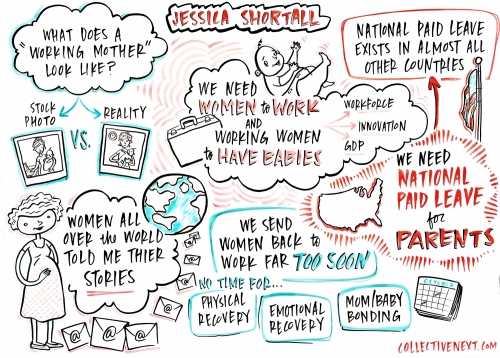 Boyd High School Engineering Team: Described how they designed, build, and funded entirely on their own a living roof for their school that will continue on after they graduate.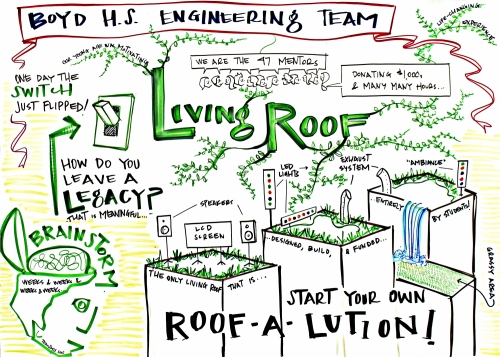 Tania Luna: Says wonder and curiosity are different beasts. When you come across something you don't know, sit with it for a while because in today's world it's too easy to find the answers for everything. Don't Google away your wonder.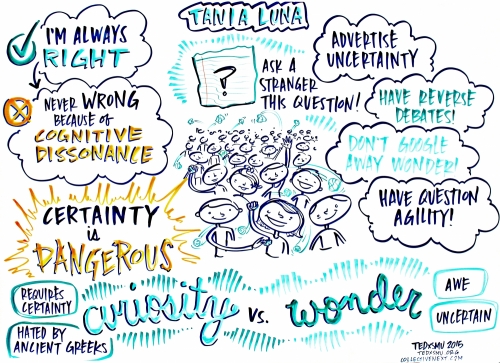 Trevor Douglas: Treated us to two live performances using his guitar and loop pedal technology. In between songs, this local musician and American Idol spoke about the nature of creativity. He says it's the one thing that separates us from all other living creatures, and explored how the creative process is used in so many more professions than the arts.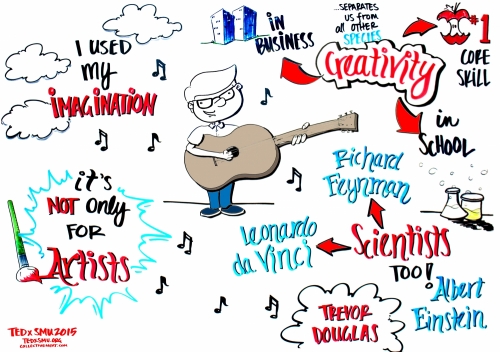 Little Less Talk, Little More Action
In the breaks between rounds of talks, to complement the Unexpected theme, my Collective Next colleages and I offered attendees something unexpected to do, in lieu of the usual break-time chatting and caffeinating.
The future of education emerged as a theme, so we invited speakers Noelle LeVeaux, Jake Minton, and Jonathan Stolk – along with 24 eager audience participants – to come together for two blazing-fast collaborative action sessions, to create a drastically different education model.
In the first session, we imagined it was 2065 and an innovative new model for education was in place. We spelled out all of the characteristics of this new model for education. How do kids access education? What does it mean to be a lifelong learner? What is the role of teachers and students?
In the second session, we continued our discussion of this amazing new 2065 education model, and asked small teams of participants to articulate how they were able to bring it into existence. What changed along the way from here to there? What mechanisms, programs, and policies changed? What difficult obstacles had to be overcome?
By the end of the second collaborative action session, no one wanted to head to the final round of talks. New, deeper connections were created as a result of working together. The conversations were so inspiring that the team has planned to continue the collaborative discussion next month outside of TEDx.
In Their Own Words: Kids Talk About Their Favorite Ideas from TedxKids
Finally, a personal highlight was having the opportunity to briefly get to know many of the kids during the TEDxKids session. Mason Smith and I chatted with dozens of young'uns, and learned about the speakers they liked and the ideas that blew their minds. It's always inspiring to hear kids translate what they're thinking about into their own words. Some of were giddy with excitement, some were serious and thoughtful, and some sounded just like adult versions of themselves despite their tender age. Have a listen to a montage of the kids in our voice postcard.
Back