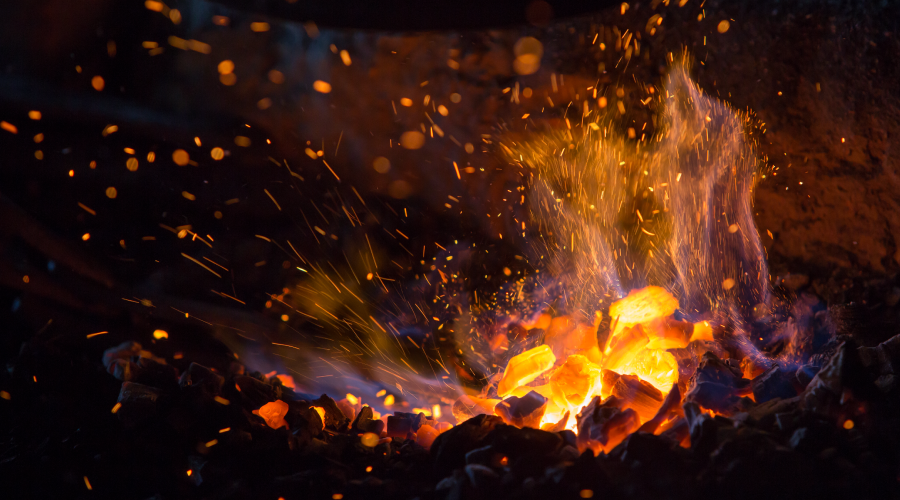 This is the seventh installment of our multi-part series entitled The Narrative Universe. In this series we explore how we humans construct our world—even our professional world—through stories, myths and narratives.
A few weeks ago I witnessed ten acts of bravery, experienced ten instances of human connection, shared ten inspiring moments. I was at my first live Moth Radio event. I was watching—listening—as everyday people took the stage, stood alone—save for a microphone and some nerve—and told their true, personal story to an audience of hundreds. On that evening I was reminded of why our earliest entertainment consisted of humans sitting around the campfire just telling stories.
I've listened to The Moth Radio Hour Podcast for years. Like many others, I've laughed and cried (sometimes in less than ideal venues) as I was humbled, tickled, touched, energized, educated, and just plain entertained by Moth stories. If you know and love The Moth, you should know that it isn't the only place you can go to hear great true storytelling. We have compiled a list of the best Podcasts featuring true stories told in a variety of formats: first person accounts, interviews, third person retellings. The topics vary of from politics to romance to crime. Whether you are seeking to hone your own storytelling craft in anticipation of an upcoming presentation—or to liven up your commute—the following list will take you there. Listen up and enjoy!
Please keep in mind these are intended for adult listening.
The Moth
The Moth is "dedicated to the art and craft of storytelling" and features "both the raconteur, who breathes fire into true tales of ordinary life, and the storytelling novice, who has lived through something extraordinary and yearns to share it." Since its inception almost two-decades ago, "The Moth has presented thousands of stories, told live and without notes, to standing-room-only crowds worldwide." And as mentioned above, these stories take you through the full range of human experience.
A place to start: Franny's Last Ride (Note: This one isn't short on profanity, but it's also one of The Moth's most popular episodes of all time)
StoryCorps
"StoryCorps' mission is to preserve and share humanity's stories in order to build connections between people and create a more just and compassionate world." StoryCorps began over 10-years ago with a booth in Grand Central station. Passersby were invited to enter in pairs and share their stories via a brief interview format. Since then, StoryCorps has travelled the country and gathered over 45,000 stories and archived them at the Library of Congress.
A place to start: Lyle Link and Carly Dreher. This episode captures the beauty of documenting our everyday lives and connections.
Fugitive Waves
This podcast is brought to us by award winning producers, The Kitchen Sisters. Stories are told by weaving together "lost recordings, shards of sound" and first hand accounts sans narrator. The stories focus on the underdogs and outsiders of history, or in the words of their website, stories from "the flipside of history."
A place to start: WHER 1000 Beautiful Watts: Parts 1 & 2. An eye opening story of the first ever all female radio station.
Lore
The tagline for this podcast: "Sometimes the truth is more frightening than fiction." Host Aaron Manke is a long-time lover of ghost stories, urban legend and folklore. He brings the influence of these genres to bear in his show. The only difference: Mahnke's chilling, often grisly, tales are one hundred percent true. Follow Manke into the dark side of human nature.
A place to start: Episode 8: The Castle. I'm not kidding about the grisly part.
Memory Palace
This podcast is dedicated to retelling oft overlooked moments in modern history. The host, Nate DiMeo, manages to illuminate historical happenings while simultaneously conjuring a sense of mystery and underscoring our human complexity. His writing is beautiful and melancholic.
A place to start: Episode 59: Harriet Quimby (or if you don't mind something heavier, Episode 48: Picture a Box)
Whistlestop
Whistlestop brings you stories of "presidential campaign curiosities"– sound timely? The podcast is hosted by Slate's political correspondent John Dickerson. Each episode "revisits a memorable (or even a forgotten) moment from America's quadrennial carnival." Political junkies and trivia fanatics, this one's for you.
A place to start: Episode 17: The Biggest Debate Gaffe Ever. Listen in on the first presidential debates of our modern era.
99 Percent Invisible
This podcast is "about all the thought that goes into the things we don't think about — the unnoticed architecture and design that shape our world." The show's host, Roman Mars, investigates everything from a phone booth in the Mojave dessert, to privately owned public open spaces (or POPOS), to check cashing stores, to the long relationship between combat and food production.
A place to start: To get a taste of the range of phenonena that Mars covers check out Episode 29: The Cul de Sac and Episode 199: The Ying and Yang of Basketball.
Also, in case you've missed these staples of the podcasting world, be sure to check out This American Life and its spin-off, the wildly popular Serial (start with season 1).
Back