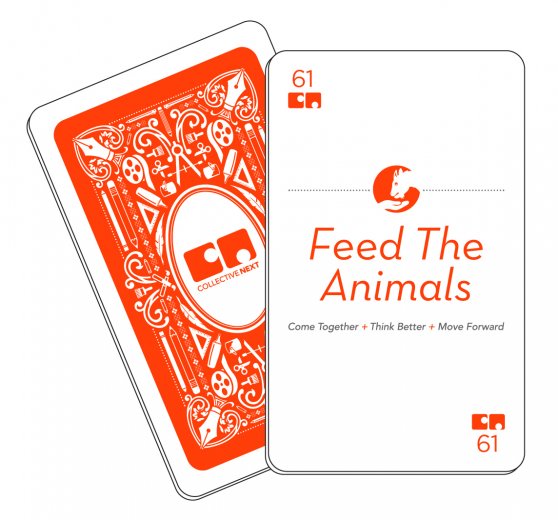 This is one of a series of posts we're running about the Collective Next Cards.
This blog has been quiet recently because its editor was in over his head as one of the curators of TEDxBoston. With that event behind us, in the weeks to come we're going to share some lessons we learned producing the event and listening to our speakers and performers. (If you want more TEDxBoston right now, you can see an extensive photo gallery here.) As it turns out, one of the lessons we were reminded of while putting on the show dovetails with our imperative to Feed the Animals.
As curators, we have multiple clients. We want the speaker or performer we're working with to do great work, we want the show to meet our personal expectations, and we want the audience to be educated, moved, or entertained by what they witness. When we go about that, if we're not careful, there's a tendency to make the speakers and performers more conventional than they really are, more "professional," more likely to fit our preconceptions of what they should be doing.
And that's exactly the wrong thing to do.
If you invite people to be on your team, it's in part because there's something unique about them. They have specific skills you need, but they also have an individual way of expressing them. You may want to shape their behavior so they are top contributors, but you also want them to be themselves. Otherwise, why did you invite them?
The trick — be it as a TEDx curator or as the manager of a team — is to make sure the people you're working with understand the broader goal you're trying to achieve, their part of achieving that goal, while at the same time encouraging them to bring their whole selves to the project and surprise you. To us, Feed the Animals means recognize the people you work with for who they truly are, give them the tools to let them be themselves, and then get out of their way so they can be great.
Back