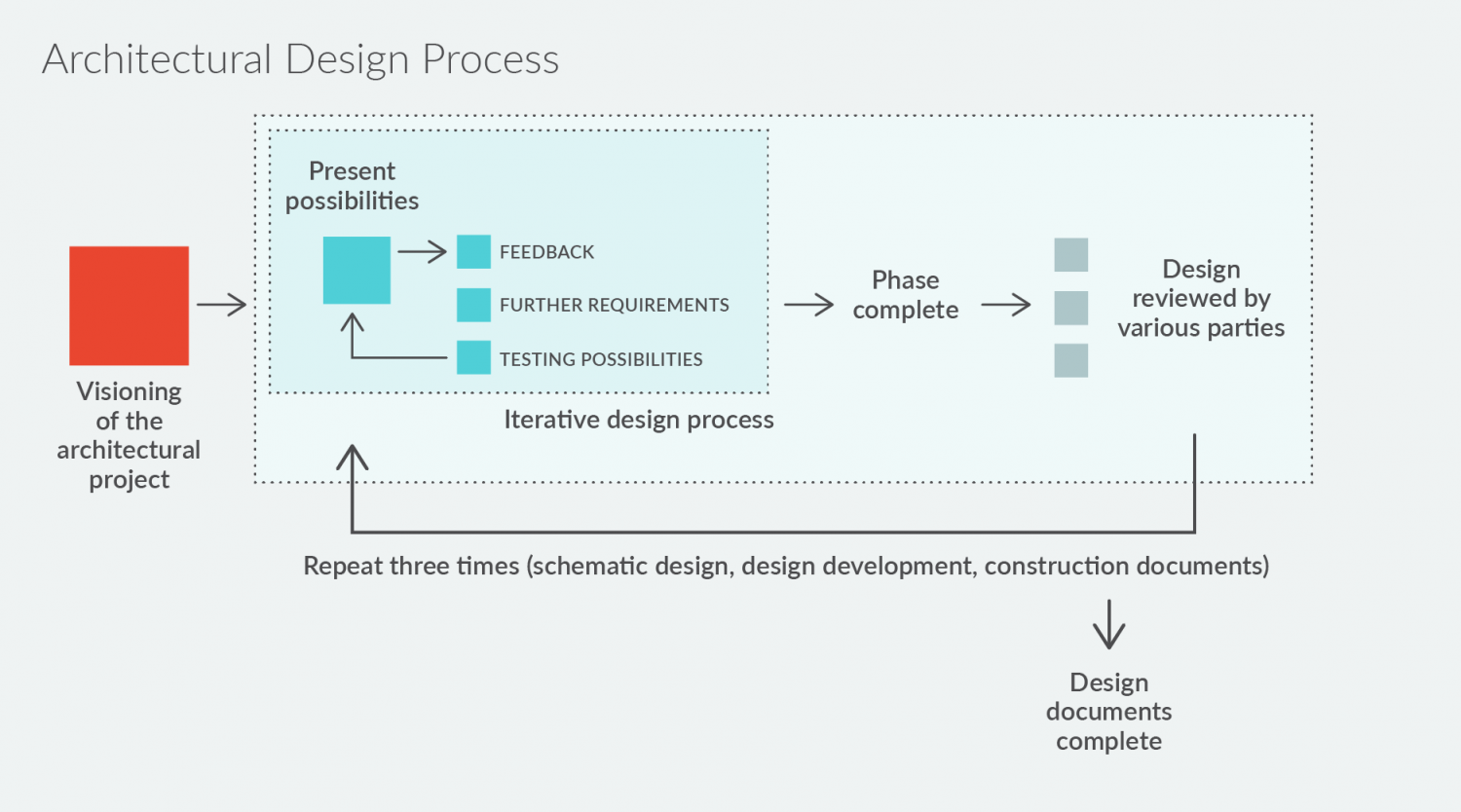 At Collective Next, we speak regularly about the importance of facilitating structural change. And typically, the structures to which we refer are organizational in nature. But, can facilitating collaborative dialogue play a key role when the structures in question are not organizational but physical – concrete, steel, and wood? In fact, large-scale building projects, such as those in corporate, institutional and academic settings, benefit immensely when diverse stakeholders are drawn together during the architectural design process. In partnership with Boston-based architecture firm, Atelier et Alia, Collective Next has been exploring opportunities to interject collaborative, facilitated moments into the visioning, design, and review phases of large-scale architectural projects. Below we share examples of how such an approach can strengthen the design and adoption of new spaces and pave the way for greater cross-organizational dialogue.
Visioning Phase
Let's start with a concrete (so to speak) example. Imagine a college campus – The College on the Hill – that wants to build a new science center. They hope to provide more research space for a wide variety of departments including biology, physics, and chemistry. Identifying the goals for such an undertaking requires cross-college collaboration from faculty members, to administrators and fundraisers, to leadership and even students. What is more, large design projects like this are often the manifestation of a broader systemic change effort. Holding a facilitated, collaborative workshop upfront to articulate a larger shared project vision accomplishes multiple things:
Builds alignment and excitement around a vision for what the project can bring to the school as a whole in addition to the departments that it will specifically house.
Facilitates stakeholders' understanding of other perspectives. Finance's lens differs from that of Facilities, but a well-facilitated conversation affords opportunity to find common ground (e.g. the expense of maintenance and how to reduce it).
Sets the stage for ongoing collaborative relationships. Creating opportunities for diverse stakeholders to dialogue early on, paves the way for open communication down the road–both during and after the project.
Encourages maximal adoption of the space. Completing a project is only half the battle. The true test of success is adoption or use of the space. A well-articulated and holistic vision promotes adoption since the project's goals are understood and shared across all stakeholders.
While there are numerous ways to facilitate upfront visioning sessions, one especially effective activity stretches stakeholder perspectives regarding what is "possible." We challenge stakeholders to consider exaggerated yet plausible future state scenarios (e.g., the current budget is cut by half, the timeline is sped up by one-year, the student center also needs to be housed in the building). We then ask them to describe how they achieved success under each set of conditions. Exploring the achievement of exaggerated goals encourages refinement of the initial vision and builds shared priorities that create frameworks for decision-making down the road. We may also ask stakeholders to temporarily assume a different identity (e.g., a faculty member becomes a student, Facilities becomes leadership). Inhabiting alternate viewpoints expands our thinking and allows for the emergence of new unexpected synergies including cross-departmental amenities, campus-wide sustainability goals, or collaborative student spaces.
Design Phase
As we shift from the Visioning to Design Phase, the need for facilitated collaboration continues, but the focus is on engaging individuals across specific user groups. We want to understand the detailed needs that the building will fulfill for particular segments of the college population. What is the best lab layout for researchers? How does the support staff function interact with faculty in the department? What are the storage requirements for Facilities? And so on.
Ensuring that we hear from all individuals—not just those most comfortable vocalizing feedback on the spot—is critical. Employing a variety of modalities for soliciting input on initial designs increases broad stakeholder engagement. At Collective Next, we often employ an activity we call the "Idea Rave." The architectural design team identifies the strategic questions for a given user group to explore. Each question is written at the top of separate whiteboards and users then document their individual responses below. Working in sub-teams and then as a full group, the users synthesize the responses to each question and identify common themes. This approach accelerates the gathering of input, promotes refinement of ideas, and encourages structured discussion.
Review Phase
Once the initial design phase is complete, it is time to reconvene the broader, cross-college group for a holistic review process. This is the moment to make hard choices. For example, if the programmatic desires of a department do not fit within the footprint of the budgeted building, it is time to up the budget or scale back the design. In order to solicit meaningful feedback from all stakeholders, it is essential to have an effective (and efficient!) process for sharing the current designs. One option is to employ a high-energy, interactive approach in which all content is carefully curated ahead of time and displayed on large-scale, single-frame visuals. Participants break into small groups and rotate through multiple rounds of simultaneously presented content focused on various aspects of the design. After each round, participants capture feedback on multi-color post-it notes (green, red, and yellow to represent approval, disapproval or caution) and attach them to the appropriate visual. The cumulative result is a real-time heat map of the large group's feedback.
Following these parallel review rounds, participants regroup for a facilitated discussion focused on understanding and addressing their feedback. By engaging a facilitator, all stakeholders, including the design team, are freed up to focus on sharing their expertise and listening to one another rather than trying to mediate the discussion. What is more, the collaborative design process that began with the project visioning has fostered positive relationships and understanding between stakeholders, inspiring them to make decisions that benefit the college as a whole.
Conclusion
In the course of an architectural project, the architect and client will cycle through all or parts of the Design and Review phases several times as they hone in on the perfect solution. Continuing to utilize structured facilitation to ensure inter-departmental and inter-functional collaboration throughout the lifecycle of the project leads to stronger and more holistic designs and solutions, greater adoption of completed spaces, and supports a future organizational culture of shared vision and success.
____________________________________________________________________________
Christina Marsh is a partner at Atelier et Alia, an architecture, research, and design firm. She has extensive experience in designing complex, award-winning academic and institutional buildings.
Mason Smith is a Senior Manager at Collective Next. Mason designs and facilitates collaborative workshops focused on accelerating all types of meaningful organizational transformations.
Back