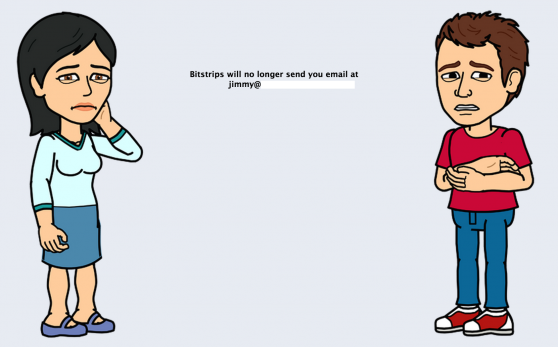 Recently on this blog, we've celebrated the expansion of our Collective Next Cards into ebook form. One of my favorite cards is Dave Rutley's observation that Everything Speaks, that all details matter. As Dave puts it,
"We believe that creating an intensely intentional environment and human experience helps ensure that decisions and designs are as thoughtful as possible."
This particular lesson came to mind when I unsubscribed from an email list yesterday. A few months back, one of our colleagues introduced us to Bitstrips' Bitmoji, an amusing app that helped create semi-customized emoji. We had fun with it but I'm trying to cut down on my email subscriptions and there's only so much late-breaking emoji news I need. So I did a quick one-click unsubscribe and was greeted by the image you see at the top of this post.
After I stopped laughing, I thought about how impressive the confirmation page is. It's funny, it captures the company's feelings about having someone unsubscribe (the poor guy on the right seems to have developed a tummyache), and — even at a moment when I intended to decrease my connection to the company — it showcases them as creative and worth keeping in mind. It captures them. It's a small, telling example of how everything speaks.
Back