The Europeans love football. Working with a client in Europe, I've had the opportunity to listen to two big football personalities give keynote addresses. This week, it was Andy Roxburgh, a former Scottish player and coach, and currently UEFA's Technical Director.
The focus of our session was competitive thinking—creating a clear understanding of the breadth of the competitive field, understanding what kinds of moves the competition could make, and determining how our client would react. Andy's talk focused on developing a Winning Attitude, and how he and other football coaches fostered their teams to championships.
What I appreciated, given the audience, was the focus on leadership, and how leaders can develop a winning attitude amongst their teams. His recipe includes the following:
Start with a big enough purpose
Identify, attract, develop, manage, motivate and retain talent
Focus on the process, and let the score take care of itself
Create a winning culture
Obsess over details
Constantly assess your performance, your team's performance, and your opposition's performance
Develop leadership qualities like taking responsibility, and being decisive and resilient
Stay cool during crises
Ask great questions, and often
After listening to his keynote, as well as the client's recent success stories, an overarching theme was the importance of perseverance, of facing the choice to dig in or walk away and choosing to dig in. That isn't always the easy choice, and it's not always the right choice (I know full well that sometimes walking away is the right answer). What I find interesting is the process by which you decide—how much is analysis vs. gut check? What influences that decision? And then, how do you create the conditions that make the hard choice actionable? Is it the pure force of determination, or is there a strategy and set of tactics for moving down the right path? It's one thing to motivate yourself, but what if you're responsible for leading a team through a tough patch?
I'd love to start that conversation…How do you inspire your teams to dig in when the going gets tough?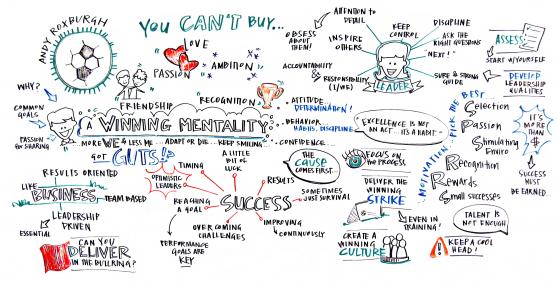 Back