The turning of the calendar year brings the notion of change to the fore. The New Year excites with the potential for personal transformation while reminding us of its difficulty (this year I really am going to use my gym membership). Organizations, too, enter 2017 with renewed hopes of meaningful change and all the same challenges we face in overcoming inertia. But organizations face at least two additional realities that individuals just don't. First, for organizations, change involves a collective effort; there are far more players on the field. And second, organizational change must respond to a larger set of social, economic, and cultural contexts. With an exponentially larger number of internal and external factors, the question of how an organization should change becomes triply difficult to decipher. One thing is for sure: even if your organization doesn't change, the world will.
So how is it that some companies are able to find their way out of the realm of stagnation and into a space of transformation? This is a question that we at CN have worked hard to understand. Over the course of 2017, we will tease apart, deconstruct if you will, what we've come to believe are the most effective processes for achieving what we term meaningful change—change that is intentional and holistic, and which positively impacts organizations and individuals (more on this in our next post). We will dive deep into what we've honed in on as a "Cycle of Meaningful Change" which is centered on three inter-related concepts: Design, Engage, and Develop.
As we explore this framework, we want to engage in a dialogue with our readers that is both practical and philosophical, both applicable to the business world and informed by multi-disciplinary perspectives. In this way, we will illustrate how and why leaders should actualize the concepts of design, engage, and develop in their own organizations. In short, in 2017 we'll explore the philosophical underpinnings as well as the nuts'n'bolts of our approach, highlighting the centrality of collective actions, creative solutions, and engaged understanding informed by a modern context.
Below is a preview of ground we plan to cover in 2017, we hope you will join us!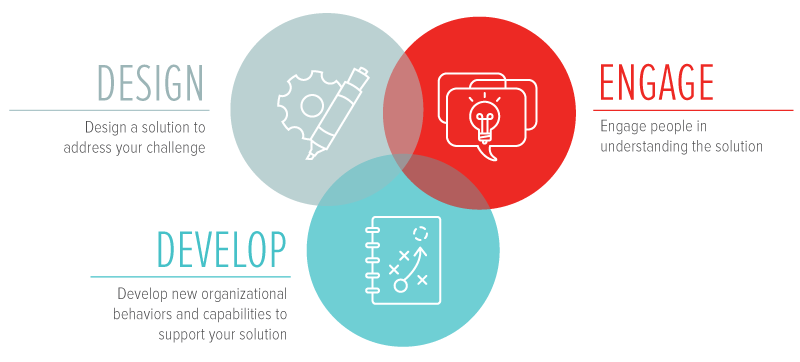 Part I: Meaningful change requires designing strong and intentional solutions to address business challenges. The best solutions are generated collaboratively by the stakeholders involved. As a result, the first series will focus on Collective Creativity, exploring how best to facilitate such creativity within organizations and across partnerships.
Part II: People need to understand and invest in solutions; they need to engage. In our second series, The Power of Immersive Experiences we consider the importance of methods ranging from collaborative workshops to "walking in the shoes" of the customer. We focus in particular on the role of narratives and visuals in such experiences.
Part III: To successfully support transformation, it is essential to have the right organizational behaviors and capabilities in place. Our third series focuses on Learning in a Modern Age, considering the ways in which organizations can harness both self-directed learning and collaborative learning moving into the future, while cultivating openness to new perspectives and information.
We look forward to thinking through all of this through with you, dear reader, and helping you to facilitate meaningful change in 2017.
Back