At Collective Next, we like to think we can scribe anywhere. Last night we put that belief to the test when our Kris Henry and art director emerita Mel Segall supported a fascinating Boston Idea Week panel on the future of startups in our hometown that was held in an underground subway station. It was a bit warm despite being underground ("it feels like the amphibian house at the zoo," Mel said), but it was reasonably comfortable, even if it was a bit, as Kris put it, "dewy."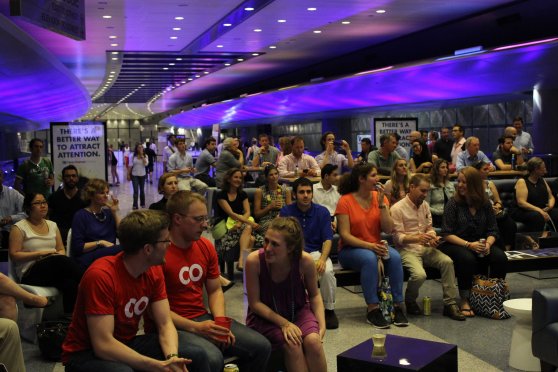 Boston Idea Week, now in its second year, created a pop-up Idea Lab in the Courthouse MBTA station on the Silver Line. The space fit a couple hundred people comfortably. The organizers had total control of the space and decided not to offer Wi-Fi to attendess, and the space had a gift for the organizers as well: mobile phone signals didn't work at all. If you were there, you were really there. With no Internet distractions, we had no choice but to engage with the programming and each other. More events should be run that way.
The panel was worth the undivided attention. Eight people who made their living either running or serving startups started with some of the usual terms people in startups use to describe their products and services ("we give people superpowers," said one), but they quickly moved past their usual pitch language to deliver something more honest and useful. As Kris put it, "I liked the candidness of the conversations. It wasn't the usual tactful words about innovation."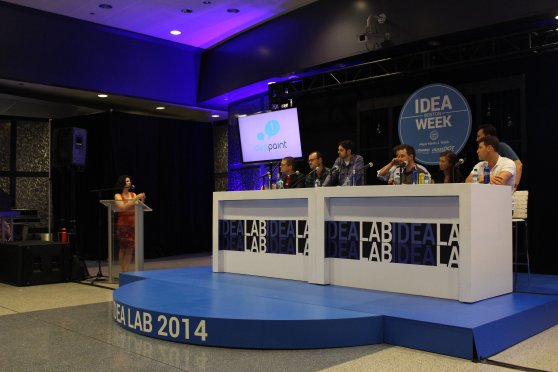 Indeed, the night was full of people talking about the difficulties in scaling a culture, the benefits of having scapegoats in coworking environments, the pros and cons of being wrong, and why an "impromptu whiskey tasting" might be just what your startup needs. These startup war stories were both poignant and amusing, and any panel that includes a startup director telling a story about getting his pants stolen is worth attending. Even the usual stories about failures, in which panelists at such events often hedge answers to protect themselves and reposition those failures in the context of eventual successes, were relatively open and vulnerable.
But don't settle for our day-after report. You should have the same pleasure the people in the room got. Drawn on an IdeaPaint board (IdeaPaint, one of the sponsors of Idea Week, produces materials that make any surface scribe-able), here's what Mel and Kris created.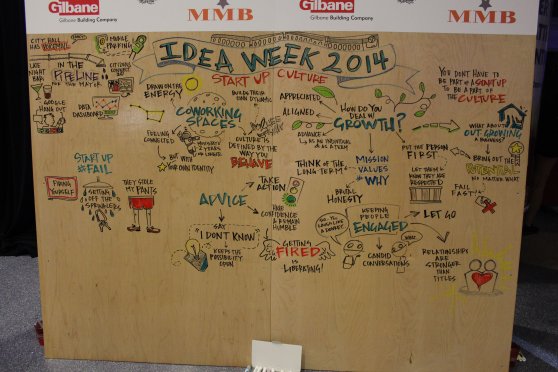 Tuesday night's subway event was just one of many parts of Boston Idea Week that Collective Next chronicled.
UPDATE: Want to see more of our Idea Week work? Visit our Facebook page.
And, if you've read this far, chances are you want some shots of Mel and Kris in action. Your wish has been granted.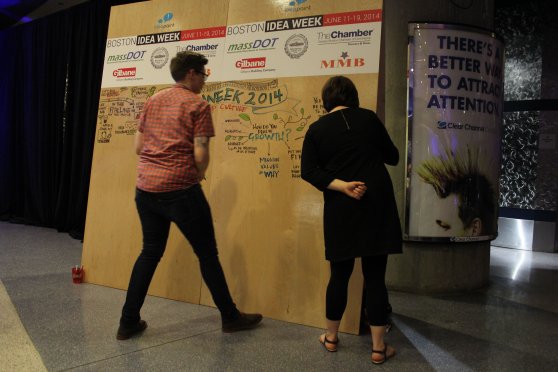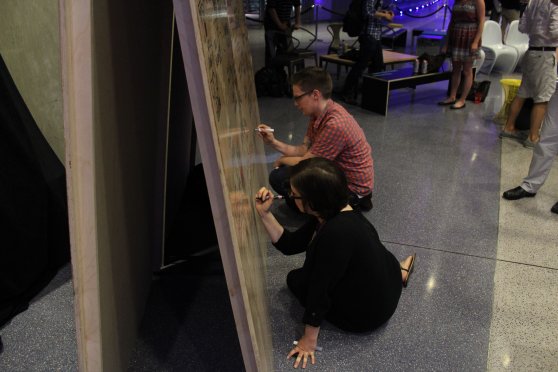 Congrats, Mel and Kris!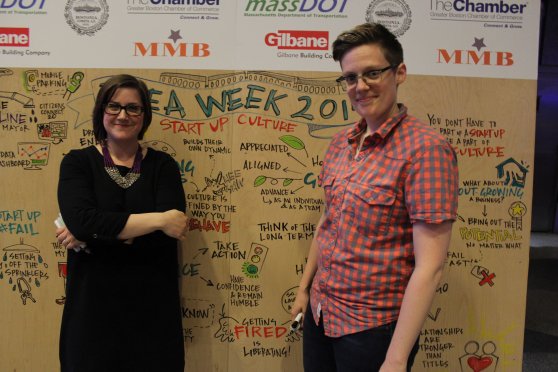 Back