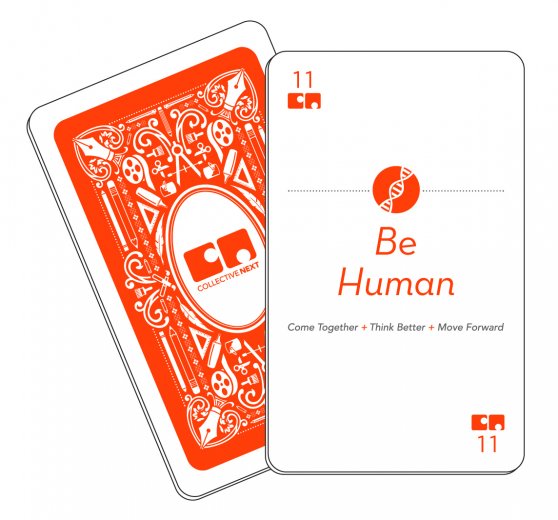 This is one of a series of posts we're running this summer about the Collective Next Cards.
At Collective Next, we try to be excellent at being human. That's a strange idea to write down, being excellent at something that you inherently are, but I think being human is something that is forgotten these days, especially in our results-driven world.
We don't want to shy away from being human; in fact we want to own it. We connect to our clients' humanity by factoring it into how we design our events, how we cater to all learning styles when we deliver work, how we give everyone a voice, and how we help people's stories better resonate with their audiences.
One way that we try to be excellent at being human is by giving back to the communities we work in. For the last three years, we have partnered with UP Academy Boston, an ambitious charter school in South Boston. I recently asked Jamie Morrison, the school's principal, to tell me how he thought Collective Next brought "being human" to the work we have done together.
Jamie highlighted three areas:
Our investment in helping the school improve its work/life balance
Helping his team of educators be the best they can be so they can do more for their students
Applying a way of working that values the opinions, philosophies ,and experiences of all stakeholders
These are the types of human challenges that Collective Next is built for. They are the type of challenges we look for — where we can help an organization improve its performance and be more human, too.
Back