A "Single Frame" is a rich visual summary of information. We use Single Frames as both a facilitation tool and a communication tool, and they're the topic for Episode 4 of our podcast NibSqueak, released today. In this episode, Beyond PowerPoint , John and I explore the Tufte-inspired notion that people are able (and willing/wanting) to take in a lot more information visually than is typically offered. We go on to extoll the many virtues of Single Frames.
Using Single Frames to Gather and Organize Information
Think about your favorite, go-to PowerPoint deck for your product, project, or pitch. Imagine printing this deck and tacking your slides up on a wall (a la Homeland's Carrie Mathison), then adding or removing, re-organizing, and streamlining the content where you see gaps or overlaps, and using that wall, that single picture – or frame – to present your ideas. That's one way of thinking about this format. Single Frames create an opportunity for you as the presenter to show, in a very salient way, a few things that are often missing from slide presentations: complexity in and relationships between content. And they give your audience an opportunity to see beyond the "parts" and the "sum of the parts"; to see what is more than the sum of the parts by drawing their own connections within and to your content.
When our guest on Episode 4, Hannah, met up with her research team for the first time in a couple of months to discuss findings, they did not have a slide deck to draw from as a starting place. They shared their information and insights the old fashioned way: conversation, collaboration, and exploring commonalities and differences. We asked them to create a Single Frame to summarize their group knowledge. In doing so, they were able to draft a clear picture of their research findings and chart a course for future development.
We also sometimes create Single Frames on the fly, when we're scribing (graphic recording) or graphic facilitating. This was the case when John created the "operating model" Single Frame at the bottom of this post. John was facilitating a design session and listening to several groups report out their work. As they talked about their ideas, he listened very intently, and started to develop this concept for how all of their ideas might be represented in one visual. In real time, in dry erase, he scribed up a first draft of what would become their operating model. The group included legendary ocean researcher Sylvia Earle, so naturally John wrapped it all up with underwater imagery. The group appreciated seeing the synthesis of their ideas as well as the metaphor.
Using Single Frames to Communicate Information
We say it in episode 4, but it bears repeating: When creating a single frame, your first draft(s) will be messy and possibly – well, ugly. Take heart! That means you're doing it right. You can always clean it up later, with or without help from a professional.
Our Creative team is often enlisted to make Single Frames audience-ready, or even to facilitate the creation of Single Frames from inception to completion.  We work closely with clients to digitally design Single Frames as standalone pieces, for display in a common area, or as an alternative to PowerPoint presentations.  These are typically printed at large scale, 8'x4′, and presented at workshops and conferences in lieu of slides. Check out our Portfolio page for examples. Enjoy the show!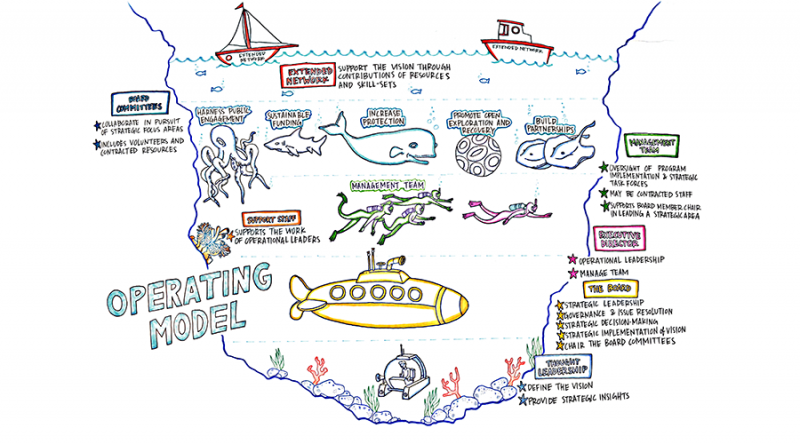 NibSqueak is our podcast about using visuals to communicate, collaborate, and work better. For a complete episode list, visit nibsqueak.com.
Back