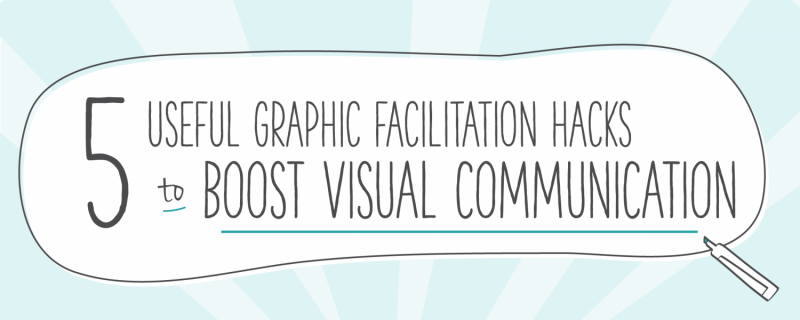 A friend of mine, who is an environmental chemist and not graphically inclined, recently decided to up his game using visuals at work. This self-proclaimed "left-brainer" has been reading up on visual thinking and visual group process – a few of our favorite topics! With that in mind, he inquired about tactical tricks for working visually. Here are a few scribe hacks for visual communicators and collaborators:
#1 Make your own marker palette – it's easy!
I make and give away dozens of marker palettes every year because friends and clients adore them. Every Collective Next-er knows how to whip a handful of random markers and a few feet of duct or gaffer's tape into a neat troop of ready rainbow soldiers, and now you can too.
Make Your Own Marker Palette from Collective Next on Vimeo.
#2 For cheap, easy, semi-portable whiteboards, head to the bathroom
Teams looking for large, inexpensive, lightweight whiteboards should consider a product that is often used in bathroom construction: 8'x4' Hardboard Thrifty White Tile Board. It's good to see it in person at your local hardware store, as these boards are often a little (or a lot) imperfect. Stack two or three and place them on two sturdy easels, horizontally, and you're ready to go. When you're finished using these, they are easy to store because they are perfectly flat, or upcycle these, as they have other uses.
#3 Don't go it alone, except for when you must go it alone
Sometimes it's just you and the giant roll of paper, and you have to make it work. Graphic facilitator extraordinaire Julie Gieseke, created a brilliant visual step-by-step guide for hanging large sheets of paper by yourself. It will change the way you hang paper forever.
#4 When life gives you foam core, make foam core towers
I love walking through our office space, or a session space, and seeing visual work on mixed surfaces. Several of our walls are coated in Idea Paint and they get non-stop use. In addition to traditional white, we have a vibrant red wall and a clear-coated natural wood wall. We also have a few older whiteboards on wheels, which we use to create impromptu crash spaces. We scribe on glass walls and windows. We have been known to scribe on tables, placemats, and napkins. And of course, we sometimes scribe on foam core or similar. Foam or card board towers are easy to make and add an inviting, architectural dimension to your work. Here's how to do it: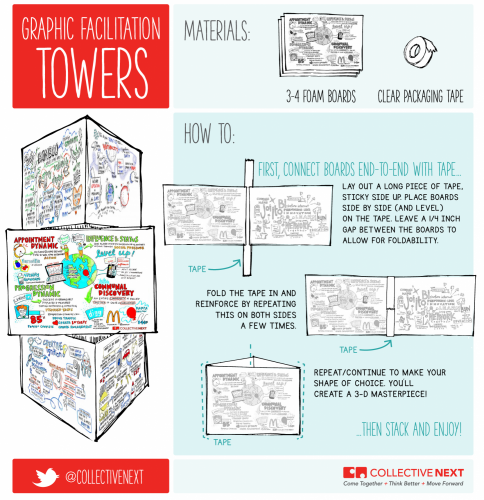 #5 When in doubt, toss it out (or refill)
Some things can be used up to the last drop, but marker ink – when it's intended to express your ideas – doesn't make the list. If you've ever used a dry erase board, you have experienced defeat by dead marker. Don't be shy about replacing or refilling 'em. You'll find that using new pens can feel like a great haircut – transformative! And hey, if there's someone in your life whose ink is low (your barista, your kid's teacher, your boss), why not give the gift of fresh pens?
What's missing from this list? What unlikely tools and techniques make it easier for you to communicate visually?
Back